The Wisconsin CPA – Excerpts from Cover Story
By Amy Gaeth, Managing Editor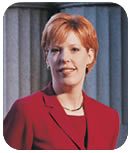 Many people consider fraud and litigation to be unpleasant business. A growing number of Wisconsin CPAs are willingly getting involved in these areas, however. CPAs' reputation for financial expertise and integrity has led litigants and attorneys to hire CPAs as expert witnesses and resulted in increased demand for forensic accountants.
Forensic accountants provide expert witness services, damage calculations for contract disputes or lawsuits, audits for insurance fraud or business fraud cases, and business valuations.