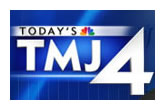 Milwaukee's NBC affiliate, WTMJ, interviews fraud investigator Tracy Coenen about issues in finance campaign reports related to the mayoral race.
The evening newscast featured Tracy Coenen giving her opinion about inaccuracies in the campaign finance reports submitted by Marvin Pratt. She also commented on the assertions made by the Pratt campaign, and the lack of documentation to support those assertions.
The lead story during the 6:00pm news featured Tracy Coenen's opinion on the campaign finance reports and the lack of documentation in support of the campaign's claims.