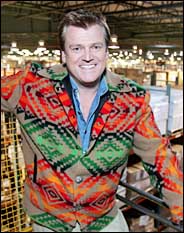 Recently a countersuit was filed by Gradient Analytics against Overstock.com (NASDAQ:OSTK) and Patrick Byrne, claiming that the company and Byrne engaged in a smear campaign after negative reports on Overstock were issued by Gradient. The suit includes allegations that Overstock and Byrne committed acts of defamation, tortuous interference with prospective business relations, and unfair business practices.
Gradient President and CEO Brad Forst said:
"Public companies cannot have license to libel research firms and use litigation to retaliate against analysts who are critical of their business."
Overstock sued Gradient and Rocker Partners in 2005, saying they were out to get the company and they published false negative reports about Overstock. The truth is that they published negative reports that were completely substantiated by the facts and the analysis. And guess what? Overstock sucked then, and it sucks now.
In a company press release about the new lawsuit, Patrick Byrne said:
"This lawsuit is an attempt by Gradient to distract attention from their failing business model. Besides, my criticisms of Gradient are protected by the First Amendment."
I find it ironic because I think that's the exact same thing many, many people say about Patrick and Overstock. All of his conspiracy theories and Sith Lords… All the blaming of naked short selling for his company's problems… All of it is really meant to be a distraction from OVERSTOCK'S FAILING BUSINESS MODEL.
If you're not familiar with Overstock, here's what you need to know: They've wasted millions of dollars of investor money and have never turned a profit. And they use phony accounting measures to try to make their dismal performance look better.