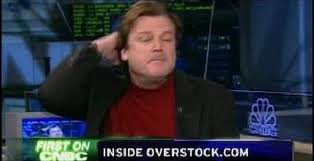 The issue of Naked Short Selling stocks (NSS) is getting some airtime, thanks to the likes of loony Overstock.com (NASDAQ:OSTK) CEO Patrick Byrne. He's a crusader for NSS, claiming over and over that the practice almost destroyed his company. The sad truth is that NSS didn't really do anything to Overstock.com. Byrne and his incompetent staff ruined the company all on their own, without any help from short sellers.
Still, it makes for interesting bedtime reading. I always love a good conspiracy theory.
For example, part of the conspiracy theory deals with the Naked Short Selling article on Wikipedia. You see, according to Byrne, there is some grand conspiracy to hide the "real truth" about NSS, and that conspiracy is played out on Wikipedia where the "truth" isn't allowed to be added to the article. The truth is that the article was so regularly vandalized, that it's now protected to prevent further vandalism. That's not a conspiracy, it's just how Wikipedia works to protect the integrity of the articles on some level.
Nonetheless, there are those who buy into the hype that naked short selling is a massive problem that is destroying our financial markets. TheCorporateCounsel.net suggests it's a massive problem, with the proof in the 5,000 complaints the SEC received about naked short selling over a recent 18 month period.
5,000? Sounds serious, doesn't it? Yes, unless you consider that over that period of time, the SEC recevied a total of 1.38 million complaints, making naked short selling responsible responsible for 0.36% (yes, that's less than one-half of one percent) of the complaints. Maybe it's not such a big problem after all?
Oh, that's right. The grand conspiracy. It is a big deal but there is a massive conspiracy aimed at hiding naked short selling from you.
There is plenty of theory on how naked short selling can hurt companies and the stock market as a whole, and I don't disagree that it's illegal and could cause harm. Yet there's no actual  proof that it is even happening on any sort of level that should have us up in arms. The evidence points to some instances of abusive naked short selling, but no company has been destroyed by it. For months, those grounded in reality have asked the NSS cult members to name one company "destroyed" (or even harmed in a measurable way) by NSS and to provide the proof to support that claim. It hasn't been done because  no such company exists.
All this background is to give you a point of reference for what the SEC is suggesting. The agency is talking tough, but the sad truth is that it doesn't have the resources or the will to really make a regulatory dent in the fraud at public companies.
Yet the bright idea now floated by the SEC Office of Inspector Genera is to better waste scarce resources on the issue of naked short selling. Gary Weiss brought my attention to the report they issued, which is devoid of any evidence to support the contention that this is a problem of any magnitude.
All the SEC has are less than 300 complaints a month about naked short selling, out of a total of about 80,000 complaints per month. Don't you think those other 79,700 complaints might actually have some merit and some proof behind them… and therefore deserve the real scrutiny?
It's also worth pointing out that the complaints the SEC receives are likely mostly from a small group of tinfoil hat wearing conspiracy theorists who have gone on a letter-writing campaign in an attempt to get more attention. Do any of those complaints offer real facts and evidence about naked short selling of a real company? Or are they mostly just broad accusations that NSS is a big problem in need of investigation?
Sounds like a really important issue if 3.6 out of every thousand complaints to the SEC involve naked shorting!

Kind of makes you wonder about the 99.64% of email complainers, genuine victims of investor ripoffs, that don't have the OIG's ear. I guess they don't have highly-paid lobbyists and astroturf organizations, with dishonest names like the "Coalition Against Market Manipulation," pushing their cause.
Thankfully, the SEC enforcement division isn't taking the NSS bait and wrote this in response to the OIG report:
Despite its assertions regarding the potential danger of "naked" short selling and the growing interest in the subject, the Report can cite to no bona fide studies or empirical data regarding the practice's market impact. The Division of Trading and Markets debunks the theory that NSS creates "counterfeit" or "phantom" shares.
But I'm sure the SEC enforcement division is just part of the grand conspiracy to cover up naked short selling, right?