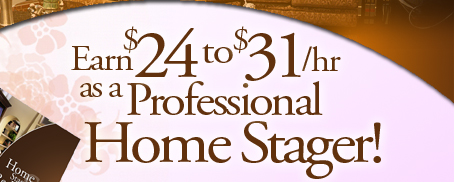 Do-it-yourself home renovation projects are still all the rage, years after shows like TLC's Trading Spaces became popular. No doubt the economy has also influenced people to try to increase the value of their real estate for little or no cost. People are decorating and selling their homes themselves. And they're having fun doing it.
And there's always an opportunist waiting in the wings to make a buck on the latest craze. In steps Haverhill Home Staging. Buy our correspondence course. Pass the test. And we'll guarantee you a job paying $24 to $31. Does it sound too good to be true? It just might be.
On its face, the concept doesn't sound shady. "Home staging" is a big part of the process of selling or renting a residence, and plenty of people hire professionals to help them with their presentation. Haverhill says it's "North America's largest and fastest growing Home Staging Company." Impressive? Maybe. True? Who really knows. Helpful in peddling its correspondence course? Likely.
Haverhill Home Staging advertises on cable television, particularly during home remodeling shows like Designed to Sell and The Stagers, both on HGTV. The commercials say the company is in need of stagers across the United States to provide services. And oh by the way…. successful completion of their $997 "course" in home staging will guarantee you a job with them.
Here's how it works: Pay Haverhill nearly $1,000 for a correspondence course (yes, it's self-study all the way). Take a test. They'll guarantee you a full-time or part-time job which their website says pays $24 to $31. That's probably a lot more than many of your friends are making at their jobs. What's not to love about this?
Here's one of their commercials for "Haverhill Institute of Staging." The graphics say "GUARANTEED EMPLOYMENT. OR YOUR MONEY BACK." But notice the clever language as spoken in the commercial: You'll "qualify" for full or part-time employment. So are "graduates" guaranteed employment? Or are they guaranteed to qualify for employment? I'm skeptical.
In this day and age of scams, schemes, and frauds, it's important to ask yourself about this "guarantee." How many guarantees have we seen recently that really offer little substance? I'm not saying this is true of Haverhill, but the savvy consumer ought to wonder.
The first question you should ask is why Haverhill is spending so much money buying advertising on cable television. This sounds like a fantastic deal for the "student." If it's really all it's cracked up to be, why aren't people beating down their door begging to buy the course and get a "guaranteed" job? Why must they spend tens of thousands of dollars on these advertisements?
Who is behind Haverhill? The man behind the company is Darren Morgenstern, a man who was pursued by the FTC in 2001 for allegedly perpetrating a domain name scam. (Note to Haverhill lawyers: The FTC called it a scam in the page I linked to. If you don't like it, complain to them, not to me.) Morgenstern's company went by the names National Domain Name Registry, Electronic Domain Name Monitoring, or Corporate Domain Name Monitoring, according to the FTC. The FTC says he got at least 27,000 consumers to pay him fees to obtain domain names that he fraudulently represented to them were being sought by competitors. He essentially "warned" them that a non-existent competitor wanted a domain name similar to theirs, so they should pony up money to him and get the domain name for themselves.
Morgenstern settled these charges in 2002, and the companies accused by the FTC paid $375,000 to compensate alleged victims. He also agreed to be barred from making false or mileading statements in the sale of goods or services related to domain names, email, or webhosting services. He's even barred from using unsolicited marketing faxes. With this type of settlement, Morgenstern didn't ADMIT to doing anything wrong.
The guy's also got an interesting past related to a website he started for people who want to cheat on their spouses. Read up on that and judge for yourself.
What's happening to the "students" who participate in the Haverhill Home Staging course? Who's getting a sustainable job with Haverhill? Morgenstern apparently says that 20 people have gotten full-or part-time jobs with Haverhill. And he says that another 100 will be getting jobs with Haverhill soon. Does that sound impressive? I'd love to know how many people have "passed" the correspondence course. That's the only way to evaluate their guarantee.
Students of Haverhill are talking. Some praise the company.
Others, not so much. One student had this to say on a message board: "Soon I became one of those people who were deceived with the false promises and paid Haverhill $1047 for the vague opportunity to be employed. I enrolled in this "course" in April and worked hard on all those 6 impossible to complete assignments and submitted them on time. I asked to meet Kimberly Uksik, instructor I was assigned to, and handed in all the projects directly.  She didn't even mention about any changes to curriculum or possible delays. It was DIY part. No assistance whatsoever though I was reassured that Haverhill will provide real customers for assignments. Instead I received 15 Haverhill door hangers to distribute and got one respond 2 weeks later. The happy customers e-mailed to instructor, Thank you letter full of sincerely nice words on my behalf. Waiting. Nothing in return, no training, The manual was  a simple compilation of common knowledge statements which can be found for free on any HGTV related site."
This student reported difficulty in even getting through the class. How can you get the "guaranteed" job if you can't even get through the course?
Another student on the same message board had this to say: "During the discussion portion someone asked Kimberly "How many stagers have your hired to date", the answer was "4", only 4, there were 114 people in this tele class.  I had to pick up my jaw off the desk, only 4 to date, how long has this school been operating for.  That's when a light bulb went on, for me and I think a few others in the tele class, is this a scam, do they make every precaution to not evaluate anyone at 80% or above."
If you can't complete the course with a grade of 80% or better, you're not "eligible" for the "guaranteed" employment.
Another complainer: "I am here to hopefully prevent anyone else from losing their money and time by signing up for this course. I registered for the course June/08, I have been in the home renovations and design business for over 10 yrs. My husband and I own a painting and renovations business. I have many connections in this field. I completed all the assignments on time for real clients who loved my work and have since referred me for more re-designing work. I have been through college and received my R.N.A with a grade point average of 4.9 on the Dean's List. Never have I received a grade under 80%. I totally wasn't worried. My grade was 51% out of 70% on the assignments and I received little indication as to the grading system or why I received that grade. The test, I studied 4 hours prior to writing and it is open book. I was timed out the first time, ran out of time at question 50 the second time and was later informed they added 5 more questions, so I wrote again and completed the test with flying colors so I thought only to receive a grade of 22% out of 30% and got a comment of "well done". My final grade was 73%  leaving me just shy of being eligible for employment."
A Haverhill instructor responded to one complainer with a lengthy post, which included criticisms of the student's work and this: "Naturally, our course is going to be challenging. We make it very clear that there is minimum eligibility requirements to being hired. And why shouldn't there be high standards? Nobody ever built a company on the efforts or integrity of people that want to fake their way into a job."
Haverhill apparently takes the of complainers seriously. Not in remedying the problems. But in threatening those who make the complaints publicly. One of the complainers wrote: "Thank you Barb. I've just received a warning from Haverhill for speaking that truth which can be harmful to their reputation. The fact that I was easily identified speaks for itself. Now they will see me behind every posting. What else can I say? Does anyone want to share their experience? Haverhill threatens me with legal actions this is really nice. Below is the original text."
Correpsonce from Kimberly Uksick at Haverhill allegedly stated: "Please consider this as further notice that we reserve all rights and recourses against you for all remarks posted by you on various message boards and may seek damages against you."
There is more interesting discussion of the company found here. And another string of complaints is found on this page.
Where does that leave the consumer? It's just good business to be skeptical about offerings like these and guarantees which may appear to be too good to be true.
My book Expert Fraud Investigation: A Step-by-Step Guide offers a checklist for anyone considering an investment. And I think $1,000 for a self-study course in home staging is quite an investment for many people, so they owe it to themselves to ask some of the questions suggested in the book:
What do objective third parties have to say about the company and its business? Are those things in line with what you are being told? Or are third parties suspiciously quiet about the company and its offerings?
Is the company guaranteeing rates of return on investments with them?
Can their promises be verified in any way?
Are certain parts of the business unusually secret? Is there a general reluctance to disclose key facts?
What is the background and experience of the principals? Do they have industry expertise?
Have any of the principals been involved in scandals or bankruptcies? Do they have criminal records? Have they been accused of running any scams?
Trust your instincts. Don't fork over money without a thorough investigation of what you're putting money into. Be very cautious and conservative with your money. And be very careful about falling for guarantees which are questionable.
In this case, it looks like a consumer is "buying a job" with Haverhill because the $997 course is a requirement before getting the job. If you even get a job with them.