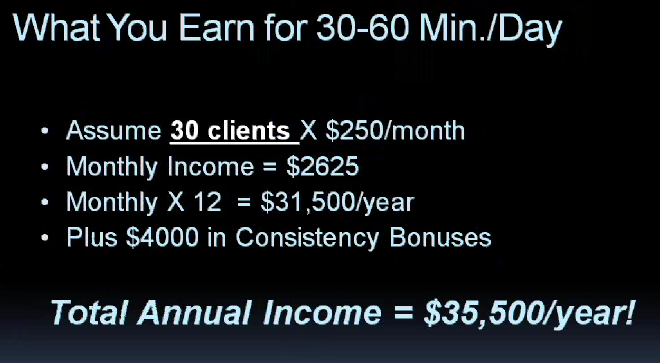 UPDATE: On February 17, 2010, Medifast Inc. filed suit in US District Court, Southern District of California, alleging defamation, violation of California Corporations Code, and unfair business practices. On March 29, 2011, Judge Janis Sammartino dismissed all of Medifast's claims against me in her ruling on my anti-SLAPP motion.
This week Barry Minkow and iBusiness Reporting did a comparison of the business models of Pre-Paid Legal Services Inc. (NYSE: PPD) and the Take Shape For Life division of  Medifast Inc. (NYSE:MED).  Pre-Paid Legal is being investigated by the SEC, and Barry wondered how the compensation plans of Pre-Paid and TSFL stacked up. The obvious question is whether Medifast could eventually face the same scrutiny as Pre-Paid Legal.
It seems that the SEC investigation of Pre-Paid Legal has focused on its stock buyback program (this is how executives and insiders get rich) and how the company is marketed. They also asked for data on membership statistics, so this could open the door to evaluating whether the practices of the company are like a Ponzi scheme.
Fraud Discovery Institute issued a press release detailing 5 points of similarity between Medifast/TSFL and Pre-Paid Legal, which said in part:
"Sixty-one percent of Medifast's total revenue is derived from Take Shape for Life, the
company's multi-level marketing division," said Barry Minkow, co-founder of FDI. "And since both Pre-Paid Legal and Medifast must rely heavily on their multi-level marketing pie-in-the-sky compensation structure in order to lure in new recruits, it is critical for Wall Street investors and analysts to factor in what legal issues Medifast might be facing. And these similarities are striking."

FDI's latest report shows the examples of similarities between Pre-Paid Legal and Medifast:

Both Medifast and Pre-Paid Legal report dismally low earnings for the vast majority of "coaches" and "associates." From July to December 2009, 53% of Medifast's "active" health coaches made an average of $97 per month, and this "average" is inflated, as it conveniently excludes all coaches who made less than $25 per month. In 2009, Pre-Paid legal reported that only 1.6% of vested sales associate personally sold more than ten memberships. With annual commissions of $16 or $25 per sale of a family plan for associates selling less than 25 memberships, this means that 98.4% of vested associates make less than $250 per year.
Representatives of Medifast and Pre-Paid Legal are incentivized to recruit, rather than to sell the products. The representatives above the salesperson in both companies are collectively paid much more in commission on each sale than the associate who actually made the sale. It is nearly impossible to make a reasonable income simply selling the products or services of Medifast or Pre-Paid Legal, pushing the representatives to recruit new members in the hope of earning more.
Both Medifast and Pre-Paid Legal have 10 levels of commission payouts. For an individual sale, the person making the sale will receive a small commission, while 9 other levels will receive commissions that, collectively, usually exceed the commission the actual salesperson received.
What's to hide? Neither Medifast nor Pre-Paid Legal disclose their "churn rates." While both companies report the number of "active" coaches or associates at the end of the year (and Pre-Paid Legal also reports the number of associates recruited during the year), they deliberately fail to disclose the total number of representatives at the end of the year or the number of people who have quit during the year. Failing to disclose these key figures effectively conceals the failure rate of the recruits.
What's to hide, Part II? Neither Medifast nor Pre-Paid Legal discloses the real average income for their coaches or associates. Medifast appears to disclose average income, but excludes all coaches earning $25 or less in monthly commission from its calculations, effectively making the reported "average" a completely fictional number.

"Multi-level marketing is not direct selling and is nothing more than a money transfer game where the product or service is merely the excuse used to move the money from those at the bottom of the pyramid to the exclusive minority at the top of the pyramid," Minkow said.
My favorite point of this whole press release is the part related to Medifast's disclosure of "average" earnings, which aren't average at all!!! The company claims that the average monthly earnings of the bottom 53% of coaches are $97 per month. But a careful reading of the fine print shows that this "average" applies only to what they deem "active" coaches. They deliberately exclude from their "average" calculation all the health coaches who make $0 to $25 per month. Obviously, if those coaches were included, the real average would be much lower than this phony average.
And I don't accept the argument that since Medifast discloses in the fine print how they are calculating their "average" that it is not misleading. Many people won't look at the fine print, and when they see the word "average," they have the audacity to believe that the number really means it's an average.
On Minkow's iBusiness Reporting site, William Lobdell wrote an article about the recruiting tactics used by Medifast's TSFL division. Recruiters are touting the "entrepreneur's fantasy" that is Take Shape For Life, despite all evidence to the contrary.
Medifast discloses certain earnings figures for its health coaches (although as mentioned above, their idea of calculating an "average" means leaving out everyone who made $25 or less per month). In this income disclosure document, the company gives warnings against making income claims.
That doesn't stop Take Shape for Life co-founders Dr. Wayne Andersen and Dan Bell from claiming in a recruiting webinar that coaches can put in as little as 30 or 60 minutes a day and earn $35,000 a year.
"This is not pie in the sky," said Dan Bell, a global director for Take Shape for Life, at one point during the roughly hour-long webinar. "This is not hype … this is the truth."
Outlandish claims like this apparently work well for recruiting people into multi-level marketing companies. But TSFL is working hard to avoid the label of multi-level marketing, even though it's clear the company is an MLM… they recruit people into multiple levels in the sales chain, and 10 levels of people can receive commission on one sale.
Why is Medifast running away from the multi-level marketing label. I think they should be proud of their business model. If it's so successful and earns so many people so much money (clearly it doesn't, based on the limited data the company releases), then Medifast and Take Shape For Life should proudly accept and market the MLM label.