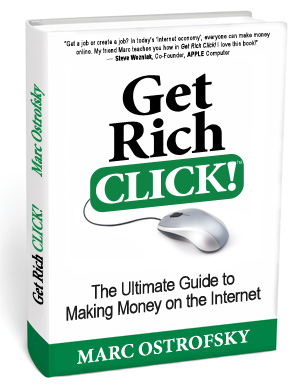 Recently I have been digging into the Salty Droid (you can't make money online) archives. Salty Droid is an attorney in Chicago who writes about scammers who pitch their wares on the internet. I've been aware of the site for a while. But little did I know that Salty Droid has been covering a number of scammers that I've had my eye on for a while: Chris Brogan, Kevin Trudeau, Alexis Neely, Sean Stephenson, Mindy Kniss, Darren Rowse, Stephen Pierce, and Yanik Silver. We also have a mutual interest in assholes like Mark Shurtleff and  Crystal Cox.
But what struck me today as I was perusing the archives of Salty Droid is how similar "internet marketing" and "multi-level marketing" are. They take a product which is either non-existent or has very little interest to actual consumers (i.e. third party purchasers, rather than the pushers/distributors themselves) and build a "business" around convincing others to push the same "product."
Here's a great explanation of what internet marketing really is:
If anything, Internet Marketing is a form of "pure marketing" that exists often without the complication of an actual product. Rather than develop something useful, Internet Marketers create something out of thin air: likely a worthless e-book, or some sort of coaching session that consists of a semi-regular phone consultation.
So…. You cobble together a crappy e-book or some other essentially worthless piece that will supposedly teach people how to make millions of dollars. You sell it to people who want to make millions of dollars. The way they theoretically make money is by selling the same non-product to others who want to make millions of dollars.
You've got a chain of people who all try to make money by telling other people how to make money, despite the fact that almost none of them are making money doing this.
The con is more clearly spelled out:
As we've seen, the basic premise of Internet Marketing is straightforward: find customers, sell them useless products, and then send the leads on to industrial strength "boiler rooms" that separate them from what little money they have left. A simple con, it still requires a massive infrastructure to maintain: mainstream media outlets like CNN and the major broadcast networks, and websites like The Huffington Post and Facebook, all play a part in getting the message of Internet Marketers out to a wider audience, either through paid advertising or programming. Google sells AdWords for phrases like "make money fast," and when unsuspecting consumers use their credit cards to give boiler rooms money, the payment has to be processed through a merchant account.
Does anyone make money? Yes, an incredibly tiny handful at the top of the pyramid make money charging people hundreds or thousands of dollars for the "product," and convincing them to make follow-up purchases after they question why they're not making any money. (They must not be doing it right. They must need additional training. They aren't promoting enough products. They need to do more. With the help of another "product" they must purchase!)
And it is essentially the same with multi-level marketing. There are MLMs with no real product (BurnLounge and YourTravelBiz are good examples), and then there are MLMs with a legitimate product that is overpriced and often has magical properties (such as Mary Kay, Amway, MonaVie, Xyngular, Medifast, Visalus, Herbalife, Usana… the list goes on). The magical properties are hyped to justify the high price, which is high mainly because of the pyramid which requires commission payouts to many levels.
Because the products are so difficult to sell to actual customers at a profit (if you don't believe me, check eBay and see how many of these products are being listed at less than wholesale prices in en effort to recover part of the distributor's purchase price), the focus is really on recruiting new members into the MLM.
Distributors market the "opportunity," hoping to recruit new distributors who will focus on recruiting new distributors. Recruiting is the only way to earn a living wage for almost everyone, yet almost no one earns a living wage from multi-level marketing even when they recruit. (Yes, an estimated 99%+ of MLM participants lose money.) And although commissions are paid out to many levels, and may in total look large, the payouts to individual distributors are extremely low. (For example, numbers released by Medifast showed half of "active" health coaches made an average of $24 per week in commissions.)
Along the way, distributors are required to make minimum purchases in order to maintain their positions in the pyramid and/or move up. Those minimum purchase far outweigh the commission almost everyone makes from their downline, and the lack of a real retail market means those products most often will be unsold or sold at a loss.
But you want to keep moving up in the MLM, right? There are people (a very, very few at the top of the pyramid) who are making money. You must just not be doing it right. You need more training and more tools. You need purchase extra products to meet "production goals" that are required to move up. Put in more of your own money now, it will pay off in the long run after you get to the top of the pyramid. (So ridiculously unlikely.)
Internet marketers (gurus!) and multi-level marketers will tell you THIS IS NOT A GET RICH QUICK SCHEME! They're right. It's a get rich NEVER scheme. Unless you're one of the charlatans listed above. (Or in the case of some of the above, they're not rich or successful either, they just pretend to be!)
But indeed what internet marketers and MLMers are selling to you IS a get rich quick scheme. It will just never work for almost everyone.