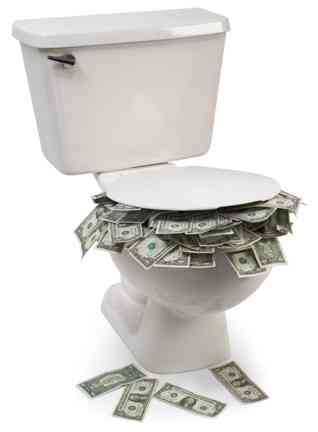 Years ago, I wrote regularly about Milwaukee Public Schools and their penchant for wasting taxpayer money. The district portrays itself as poor, with an annual budget of more than $1 billion and spending that exceeds $14,00 per child with horrible outcomes.  (In case you're wondering, "rich" districts in Wisconsin spend much less per child, and have dramatically better outcomes.)
The West Allis-West Milwaukee School District is the focus of this article. The district has been overspending for years, and is now holding a referendum. The dishonesty surrounding the whole issue is astounding. But I can break it down easily for you: For years the district has been stealing from taxpayers by spending money foolishly. Now they are crying that they are broke, and they want to steal from taxpayers again. The message is "approve our referendum or else."
Dan O'Donnell breaks it down nicely in this article. I'll give you the highlights:
During two school years (2013-14 and 2014-15), the district overspent by at least $14 million including $3.7 million in overruns for salaries and and $671,738 for a soccer complex that the board thought was paid for by grants
Overspending dates back to at least 2007
Spending problems included $6.5 million for district offices (which are now being sold because the building was supposed to "pay for itself" and generate additional revenue, but has always lost money)
The district recently had $18 million in cash reserves, but those are gone
And now we get to the referendum. The district is proposing an "operational referendum," asking for $12.5 million (or $2.5 million per year for the next 5 years). They say the money is necessary because $20 million in overspending happened because of things like: a building purchase, building expansion, poorly structured technology leases, and inconsistent budget oversight. Let's call it what it is… your "budget oversight" was essentially the wasting of taxpayer money, and now you're asking the taxpayers to pony up again.
And what happens if taxpayers don't approve the referendum? They're not going to cut unnecessary expenditures. They're not going to operate efficiently. They're going to cut the things that mean the most to your children. No music lessons ($140,000), no extracurricular sports ($250,000), reduced library and technology services ($560,000), increased class sized ($560,000), and reduced compensation ($1,000,000). I'm all for the reduced compensation, especially if it's on the administrative level, but the other actions penalize the wrong people.
Public school districts have a habit of being poor stewards of taxpayer money. They operate in their own little worlds, feeling no consequences for their actions. The only people with consequences are the taxpayers and the children.