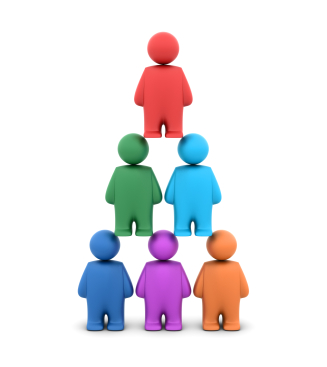 Multi-level marketing companies (MLMs) are nothing but pyramid schemes. Oh sure, there are websites that go to great pains to discuss the difference between MLMs and pyramid schemes. But when you boil it down, MLMs are indeed pyramid schemes, and ta class action lawsuit filed against Arbonne International last year explains this well.
First they describe a typical pyramid scheme:
A classic pyramid scheme operates as follows: recruits pay into the scheme for the right to receive compensation from the scheme based, in large part, on bringing new recruits into the scheme. Each recruit's money is used to pay other recruits in the scheme (particularly more senior recruits), as well as the scheme promoter. The more recruits one brings in, and the closer to the top of the pyramid he is, the more money he might make. Recruits will necessarily lose their money unless they recruit enough new people into the scheme, who will also lose their money unless they recruit enough new people, and so on. Because there is little or no outside money flowing into the scheme from real operations (other than recruitment), because payments from recruits are shared disproportionately with the persons closer to the top of the pyramid, and because the scheme operator takes a healthy cut for himself, the vast majority of recruits are doomed to lose most or all of their investments.