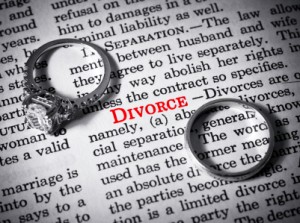 You know a divorce is in your future, and you owe it to yourself (and your children, if you have them) to protect yourself financially. Money isn't everything, but it is very important when you consider your future apart from your spouse. You may or may not have the ability to support yourself. Retirement may be near, and that will require you to think carefully. You have a right to a share of the assets and income generated during the marriage, and you must take steps to protect yourself.
1. Secure funds for attorneys, other professionals, and living expenses. If you are not in control of the family's money, it may be difficult or impossible for you to get access to funds during the divorce. It is not uncommon for the moneyed spouse (the one with the majority of the income and/or the control over the family's money) to cut off the money so the other spouse will agree to a quick divorce settlement. Do whatever you can (legally) to secure money that is available only to you. Ask yourself how you would survive if the divorce goes on for one, two, or three years, and plan accordingly.
2. Get an attorney. No matter how much you know about the law or money, you must have an attorney because divorce is complicated. Even if you're an attorney, you should not represent yourself. You are too emotionally involved in the case, and you need someone with a more objective viewpoint. Maybe you think the divorce will be amicable. It doesn't matter. You still need to protect your interests with the help of a qualified lawyer.
3. Gather as much financial documentation as you can. Make copies of any and every financial document you have in your house, and put them in a secure place outside the home. This includes tax returns, bank statements, brokerage account statements, credit card statements, real estate closing documents, mortgage applications and contracts, documents related to major purchases, wills and trust documents, and anything else having to do with your family's financial situation. If you have online accounts with banks or credit cards, go online and get all of the account statements, check copies, and deposit tickets. While gathering all of this information may seem daunting (and you might have a lot because your records go back years), it will be invaluable during the process of divorce.
4. Make lists of all known assets, liabilities, real estate, and business interests. You want to make sure that everything is accounted for in the divorce, and you should not rely on your memory going forward. Lists can be invaluable in the divorce process, as they will be the starting point if a search for undisclosed assets or income becomes necessary.
5. Open accounts only in your name. Get new bank accounts and credit cards, preferably at banks or companies which do not have your joint accounts. It may be difficult to secure credit if you do not have a job or your own credit history, but you should try. As a single person, you will need these accounts anyway, so the sooner you get started, the better off you will be.
6. Monitor your credit. Get a credit report and take a good look to see if there are accounts you did not know about. Your spouse may be using a secret credit card to pay for expenses related to an affair, or to incur expenses related to an unknown piece of property or business interest. Your credit report will also help you determine the liabilities that will have to be divided in the divorce.
7. Get a secure mailing address. You will need a place to send the statements for your new accounts, to receive correspondence from your attorney, or to receive other important communications. Do not allow these papers to come to your house, as your spouse could intercept them. A post office box is probably the best option because it will be secure and private.
8. Change beneficiaries and decision-makers. You should change your will and your living will (or healthcare power of attorney) so that your spouse does not have decision making capabilities. You should change the beneficiary on your life insurance policies and financial accounts. Your spouse may still have some rights to your assets prior to finalizing the divorce, but you can still protect some of your assets and should do so as soon as possible.
9. Don't assume that you will get half of everything in the divorce. State laws vary, and the concept of equitable distribution doesn't necessarily mean a 50/50 split. You might get half, you might not. Don't get ahead of yourself on this issue and assume something before your attorney can advise you on the laws in your state. Also remember that in spite of your state's laws, you could agree to a settlement with a different division of assets and liabilities.
10. Prepare yourself for a lengthy process. Your divorce might be done quickly. But it might not, and you should be prepared in case it goes on for an extended period of time. Sometimes spouses try to force quick settlements because they know the other spouse is in need of money quickly. You might have to hunker down in order to get the share of assets and income that you are entitled to. If you can hold out, you may have a better chance of a fair division of assets.