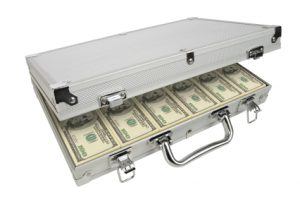 I've become really good at tracing funds through multiple bank accounts with tens of thousands of transactions. The goal is to find where the money went, and if we're lucky find evidence of hidden accounts. I usually find a hidden account when someone is sloppy: a transfer to a bank that we didn't know about, no matter how large or small the amount.
R. Kelly is currently sitting in jail after being charged in 2019 with 13 counts of racketeering, forced labor, and sexual exploitation of children in federal court in Chicago. He was denied bail because he was deemed a flight risk. R. Kelly's attorneys claimed he was broke, though.
And now the Feds say they've found a bank account R. Kelly controls, and the account received at least $1.2 million last year.
How did they find this secret account?
Apparently R. Kelly was on a recorded line from jail when he told people to contact a person who was supposed to open an account to receive money indirectly from him. In other words, someone opened an account in their name to hold onto R. Kelly's money for him.
Federal prosecutors then started getting bank records and got the proof. They say the unexpectedly got bank records belonging to an attorney representing R. Kelly in federal court in Brooklyn. They ended up finding out that Keith Calbert opened a bank account in his/her name and also created a business entity called SomeBrotherLuv LLC in March 2019.
The connection to R. Kelly was not clear until…..
In the process of tracing payments out of the SomeBrotherLuv account, they found a payment to an attorney for R. Kelly. The attorney received $2,500 in May 2019. And the connection was made.
It turns out that Kelly assigned his music royalties to SomeBrotherLuv, and the bank account began receiving royalty payments. The bank account received $1.2 million of R. Kelly's money in 2019, the Feds say.
So much for not having money to flee!
This demonstrates why it is important to look at as many transactions as possible, regardless of the size. $2,500 is probably a small sum in the scheme of R. Kelly's finances, but that payment was the key to finding a pile of money that looks like it belongs to him.
Here's a great article on tracing funds, how it's done, and why it is so important.