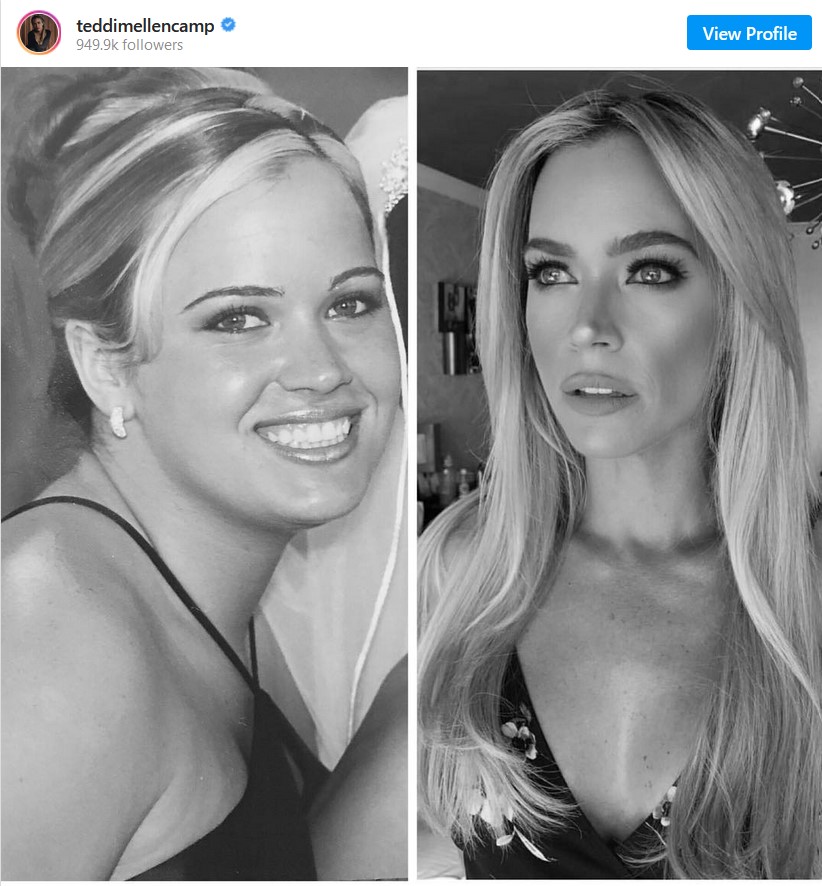 Teddi Mellencamp Arroyave, one of the stars of reality series Real Housewives of Beverly Hills (RHOBH) has just been accused of running a scam with her diet and fitness program called All In By Teddi.
The All in by Teddi diet scam (allegedly) is supposed to be an accountability diet program. You have a coach who monitors you throughout each day with text message check-ins, and you follow a diet and exercise program. Sounds great, right?
It sounds especially great because Teddi weighed over 200 pounds at one point and took the weight off by focusing on healthy eating and being active each day. She wanted to help others with their weight problems and started a company she called LA Workout Junkie, and later changed the name to All in By Teddi.
The problem with Teddi's program is that it is now being exposed as a dangerous diet.   See all the excellent reporting the All in By Teddi fraud on Instagram by Emily Gellis! Emily also recently exposed the F Factor diet (a high protein, high fiber diet including special shakes sold by F Factor), a very restrictive diet that allows less than 1,00 calories per day.
The All in by Teddi program allegedly involves eating only 500 calories per day and doing one hour of intense cardio each day.
Here are the "allowed" foods and portions for the day (from Emily's Instagram stories!):
500 calories a day is dangerous to begin with, and when you pair that with an hour of vigorous working out, you are at high risk of damaging your body.
And participants are supposedly required to sign an NDA, prohibiting them from speaking about the program. See this Facebook post for an example of someone's experience and confirmation that there is an NDA: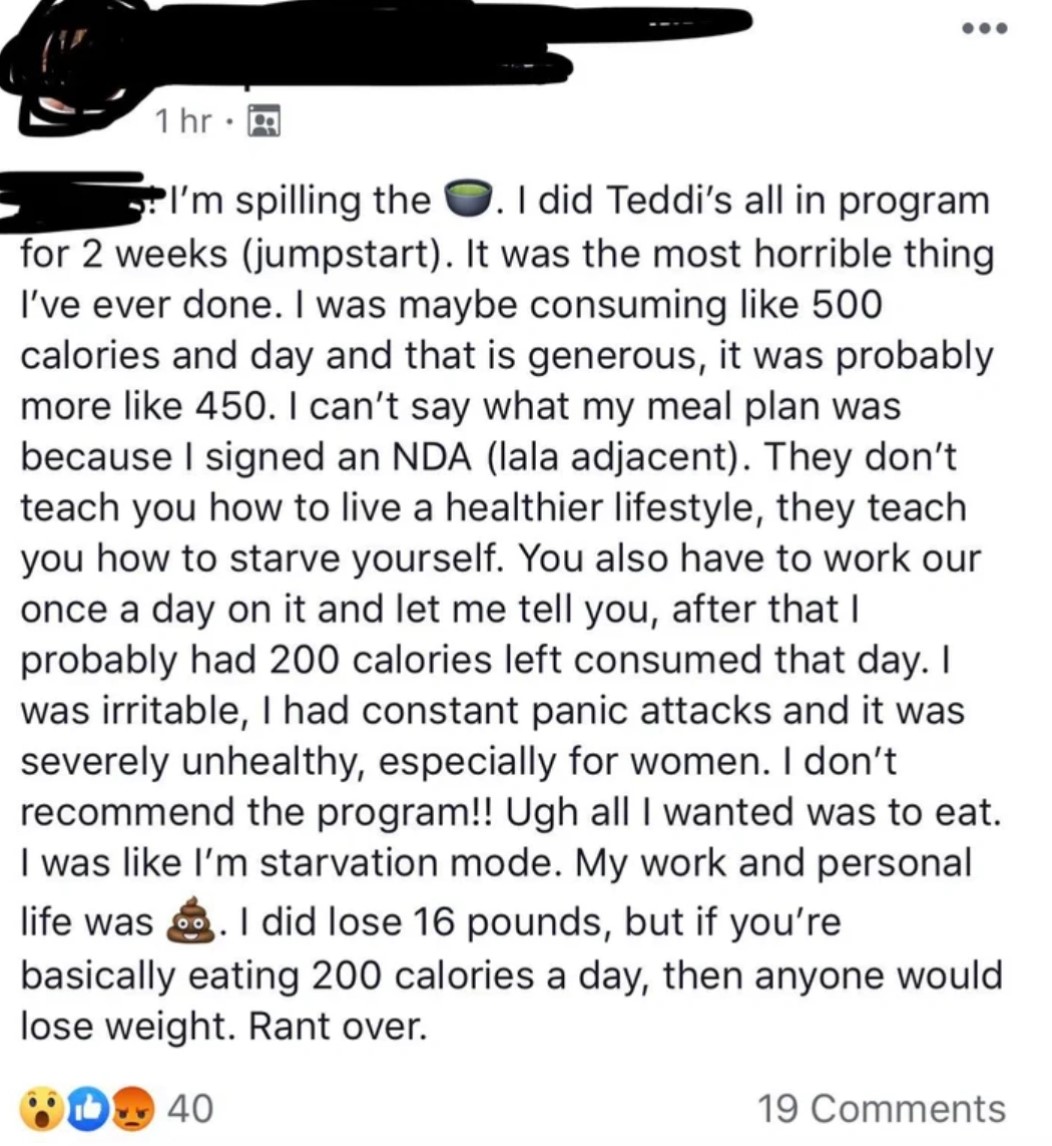 Here are some of the details of the program and costs:
According to its website, the All In program begins with a two-week "detoxification," called Jumpstart, in which users are paired with an accountability coach (typically one of Mellencamp's employees) who will check in and "cheer [them] on." The total cost for this part of the program is $599.
After successfully completing Jumpstart, users can move on to the monthly portion of the program, which has a "slightly more relaxed" menu. Step two costs $399 a month and can be continued indefinitely — though participants can move on to step three after a minimum of six weeks total (Jumpstart plus one month). Aptly titled "Weight and Workout," step three requires users to check in daily on their weight and cardio exercise routines with their accountability coaches. This step costs $5.90 a day, or $165 a month. Step four, "Maintenance," scales check-ins back to a "casual" frequency and costs $3.40 a day, or $95 a month.
It seems fair to assume the program is most expensive in the first two weeks because people are likely to quit sooner rather than later — especially if the All In diet is as punishingly restrictive as former customers have said.
Naturally, Teddi responded by saying she's proud of the work they've done, and that people know what they're signing up for before they do it. In other words: she's not denying the information that has come out publicly, rather, she is blaming people who signed up.
Apparently, it doesn't matter that her coaches hold themselves out as people who are knowledgeable about nutrition and exercise. (Although she does say that her "accountability coaches" are not certified in anything but are hand selected by Teddi after completing the program themselves.
Weight loss scams are a dime a dozen these days, many of them sold by multi-level marketing (MLM) companies. The companies like Herbalife, Beachbody, Isagenix,  and Xyngular that sell the magic meal replacement shakes all rely on extremely low calorie diets… which obviously cause weight loss because you're starving yourself.
Shame on Teddi. Shame on anyone who sells anything like this to consumers.