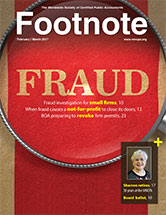 Minnesota Society of CPAs Footnote Magazine
February/March 2017
The growth in forensic accounting and fraud investigation specialties has led accounting firms of all sizes to expand their practices to these areas. Experts agree that this practice area will continue to grow for the foreseeable future.
Is it as easy as it sounds to add forensic accounting to your firm's competencies? Traditional audit staff may have excellent foundational knowledge that could be applied to fraud investigations, but offering consistent and reliable services to clients in the area of forensic accounting will take some work.
Here are areas your firm — especially if it's small — should focus.
Service focus
It is a simple decision to start providing accounting services. The next step is deciding which specific services to provide. Many types of engagements can fall under the forensic accounting umbrella, so it is important to develop a focus.