The Wisconsin CPA – Excerpts from Cover Story
By Amy Gaeth, Managing Editor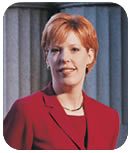 Many people consider fraud and litigation to be unpleasant business. A growing number of Wisconsin CPAs are willingly getting involved in these areas, however. CPAs' reputation for financial expertise and integrity has led litigants and attorneys to hire CPAs as expert witnesses and resulted in increased demand for forensic accountants.
Forensic accountants provide expert witness services, damage calculations for contract disputes or lawsuits, audits for insurance fraud or business fraud cases, and business valuations.
Like most CPAs, they work with numbers, but their focus is on conducting detailed investigations, examining financial records, asking questions, looking beyond the numbers, and finding the missing links.
Litigation support services
Tracy Coenen, CPA, MBA takes satisfaction in investigating fraud. "I am a criminal justice buff. I enjoy having a special area of knowledge that most other people don't have. I also enjoy getting the bad guys," says Coenen, a forensic accountant who started her own consulting business, Tracy L. Coenen, SC, in Milwaukee, January 2000.
Coenen works with the insurance and legal industries to calculate losses in insurance policies, investigate insurance fraud, help attorneys calculate economic losses in lawsuits, and serve as an expert in litigation.
"When I'm brought in by an insurance company, they already have a situation that they think might be fraudulent. I'm hired to examine the economic impact of the fraud," says Coenen. "I sit down with the people at the insurance company to get their background on what's going on. Then I study a pile of documents. I look for the red flags and start piecing things together."
Once Coenen has identified insurance fraud, her next step is write a formal report. "I give them my written report and they take the ball and run from there. There's always the possibility that I may end up testifying in court, but I'm not the one who initiates the criminal legal process," she explains.
In legal cases, Coenen provides attorneys with the numbers. She also coaches them on how to question experts on the other side. "I help my client learn how to question other experts and suggest additional documents that might help in the case. I also see myself in a partnership with my client to help them understand the numbers side of it," she says.
Coenen says serving as an expert witness is just part of her job. "I work very hard before hand to make sure that my numbers are correct, that I can support the opinions that I've given," she says. "If I've got that upfront work done, there's no problem testifying because I can verify where my numbers came from and how I did my work."
– Sidebar –
Beyond numbers, knowledge and ethics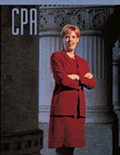 To be a successful forensic accountant requires more than a nose for numbers, technical knowledge and stalwart ethics, say Wisconsin CPAs.
"You need to be able to explain technical information in lay terms to the judge or jury," says Tracy Coenen, CPA, MBA of Tracy L. Coenen, SC in Milwaukee.
In addition, hands-on training is critical. Coenen says many CPAs want to get involved in forensic accounting because they've heard that it's a growing area. Yet, they don't have the practical experience to do it.
"The only way you can really learn about this field is through on-the-job training," says Coenen. "I was fortunate because my boss let me start working on cases early on. I learned by doing."
"All the seminars in the world are great, but if you haven't been trained practically in the job, I think you're missing something," she adds.