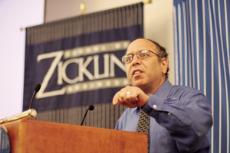 It seems that the executives of online retailer Overtsock.com may want to invest in a good dictionary.
According to the transcript of today's earnings call, they said:
Jason C. Lindsey: "I am pleased with the quarter. I think we made a big improvement…."

Patrick M. Byrne: "I will echo that… I think that this is what we aimed for a year ago but I am not sure that either Jason or I believed we could actually get to this point but we are excited about these operating improvements."
Improvements? Pleased??? Come on now. Their definition of "improving" certainly must be a lot different from mine. Why? The company is doing horribly:
Revenue for the quarter was down 11%
Operating losses for the quarter were $17.7 million
Operating losses were $3.5 million more than last year
Net losses for the quarter were $21.4 million
Net losses were $5.5 million more than last year
Who in their right mind believes that such numbers represent an improvement in the business???
Oh sure, the one bright spot is that gross margins improved. That's what they're hanging their hat on Or did they? Sam Antar raises some really good questions about Overstock's third and fourth quarters of 2006, and in particular, questions about inventories and gross margins. (Note that none of the analysts asked any of the questions, and Overstock executives certainly didn't offer up any answers voluntarily.)
The Motley Fool had this to say about the earnings call:
"Our business is dramatically improving."

Bold words from a man who runs an online retailer that burned $58 million in cash on revenues of $158 million. But then we're used to bold words from Patrick Byrne, CEO of Overstock.com (Nasdaq: OSTK).

…

As I've pointed out many times, Overstock is waging a losing battle against the likes of Amazon.com (Nasdaq: AMZN) and anyone else who's got the time to sell online. I also think Amazon is a horrible business for investors. (Great for consumers, though.) Its blowout earnings today are weak where they count: Cash flow is flat. So, if Amazon can't get 'er done despite a 32% increase in revenues, why would anyone assume Overstock could with a top line that's moving in reverse?
I found the following comments by Byrnes amusing. We'll call this the "we secretly screwed up and we're secretly fixing the secret screw up" explanation:
I think we really stopped figuring out the new things about 2004, 2005. We have figured out something we missed, something really big — well, I think it is really big. We are working on it diligently. A lot of it is actually coming together this quarter.

But I am not going to make the mistake I made in past years, which was to tell the world what we have figured out, so I am not going to mention what it is. But we did — we see now that we missed something big that had happened on the Internet and we have been working hard really for about six months to fix that.
I wonder what's next for Overstock. Will anyone hold them to account?