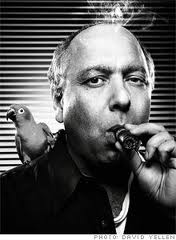 Today convicted felon Sam Antar has an exciting piece on his blog about Overstock.com (NASDAQ:OSTK) and how it fudged its earnings figures in Friday's press release, caused a short squeeze right before options expired, and continued on Patrick Byrne's path of misleading investors.
It all began with a press release reporting 2008 earnings, saying that total revenue was $200.7 million versus $157.9 million for the same period in 2007, which was a 27% increase.
Of course, those figures were not on the up-and-up. *gasp*
The comparison of the revenue figures was faulty because 2008 figures were calculated on a GAAP basis, while 2007 figures were on a non-GAAP basis. The 2008 figures included revenue that would have been part of 2007 using Overstock's non-GAAP reporting methodology. (So 2008 figures were bumped up, when compared to 2007 figures.)
According to Sam Antar:
In a previous 8-K report, Overstock.com claimed that $13.7 million of revenue and $2.1 million of net income shifted from Q4 2007 to Q1 2008 as a result of the SEC imposed revenue recognition change to comply with GAAP, and that likewise offsetting amounts would be shifted out of Q1 2008 to Q2 2008. However, by failing to restate its Q1 2007 financial reports, we cannot determine the comparability of Q1 2008 versus Q1 2007. We simply don't know what Q1 2007 would have looked like if it had been reported in accordance with GAAP.
And the accounting rules are pretty simple in this regard: If you're going to compare numbers, you have to make them COMPARABLE. You just can't take numbers that were calculated with different methodology and pretend they mean the same thing.
Unless you're Patrick Byrne, I suppose.
Sam cites an article in the CPA Journal:
The nature of an error must be disclosed, as well as the effect on the current and prior periods presented. In addition, if an error affects the current or prior periods presented or is expected to affect subsequent periods, the entity must disclose that comparative information has been restated, the effect of the correction by line-item and per-share amounts for all periods presented, and the amount of the adjustment to opening retained earnings.
Sam does some additional detailed analysis of Overstock's first quarter figures, and basically comes to the conclusion that there was no "turnaround" like what was touted by Byrne.
What did this earnings manipulation do for Overstock's stock price? The opening price was around $14 per share, and it closed at $18.47 per share, almost a 32% increase for the day.
And Sam thinks the company released earnings figures a little earlier than usual, and he thinks he knows why:
On Friday April 19, all put and call options were due to expire at the close of the market. Patrick Byrne's disdain for short sellers, and just about any person or entity that has a skeptical position or opinion of his company is well known. For example, when asked about a short squeeze in December 2003 Patrick Byrne replied, "when opportunities come along where we can knee the shorts in the groin, that's always good for fun and amusement."

[snip]

Apparently, Overstock.com wanted to bury the news of a criminal investigation of the company's advertising practices by the early issuance of an earnings release that overstated its financial performance. In the process, the stock would rise and cause losses to short sellers as their put options expired.
Wow…. this is some pretty damaging stuff, and Sam makes a very strong case. I wonder how surprised Patrick Byrne is that Sam unraveled all of this?
Gary Weiss says in his piece entitled "Overstock.com's Stock Manipulation Friday":
…this is easily the most significant of the many accounting and disclosure irregularities that Overstock has committed over the past two years.
I happen to agree. I hope the SEC is listening.