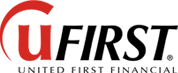 Recently, someone on my consumer awareness site Pink Truth asked about United First Financial. I did some quick research and came to the conclusion that it was a typical multi-level marketing scheme… basically a pyramid scheme that relies on the continuous recruitment of new members. I didn't think another thing about the company.
But a fellow blogger on the personal finance site WalletPop recommended the company today and I couldn't believe it, so I had to do some research again. She promoted United First Financial as a program that is "the debt snowball on steroids." She spent $3,500 to sign up for their "program" to help her reduce her debt.
So what did I find today? United First Financial is a multi-level marketing company which depends upon the endless recruitment of new members. They sell their $3,500 program to people who can least afford it, and it's not worth the money. The name sounds vaguely familiar and legitimate, doesn't it? I'm quite sure that's part of the scheme.
I began my research with the company's website. They're a little different from other MLM schemes in that they don't mention the "business opportunity" on the main site. I think they're trying to keep that part a little hush-hush. In searching other sites, I found many people who were questioning whether or not it was an MLM. It is, but it seems that fact is supposed to not be widely quoted.
The company seems to get credibility from articles in industry publications. In reality, those articles are nothing more than fluff pieces meant to market the company. None of the articles offered a critical look at what they're selling or who they're recruiting.
UFF has a sales force with no expertise in anything. You can be a representative for the company and not be trained or educated about it. Their disclaimer says: "United First Financial, its agents and subsidiaries provide Internet web based software and support services. United First Financial does not provide accounting, tax, legal, real-estate, mortgage, or investment advice." So the representatives know nothing about anything, but they're going to help you reduce your debt? (Update: There are apparently some licensed individuals who are representatives for the company, but there are no qualifications required.)
So what is this $3,500 system you're supposed to buy? It's called the Money Merge Account System (MMA). You get access to a software package that tells you what bills to pay when. The key? Finding excess cash to put toward debt to get your debts paid off faster. But I just told you that for free! You don't need a computer to tell you that if you make a consistent effort to pay more toward your debts, they'll be paid off faster than if you don't make that consistent effort.
As part of the program, you use an equity line of credit instead of your regular checking account. This way, when you have extra money, say $1,000, that would have been sitting in your checking account doing nothing…. It is instead applied to reduce your mortgage balance which saves you interest. When you need that $1,000 again, you can get the money back off the equity line of credit. Your debt balance goes back up to where it was before you had that extra $1,000, but you benefit because you saved a little interest while you didn't need to actively use that $1,000.
That sounds like a good idea, doesn't it? Yes, in theory. In reality, how many of the consumers signing up for it really understand the process? Do they really understand the risks of this program? Do they understand the drawbacks? It's more complicated than it needs to be, but mathematically the process can help you pay off your mortgage sooner.
But there are just too many drawbacks to United First Financial.
Here's a comment I found from a consumer on another site who sat through a UFF presentation:
First, the printed promotional materials stated "Pay off your 30 year mortgage in as little as 6 to 12 years", "No alteration to your current standard of living", and "Your 30-year mortgage can now be paid off in approximately 6 to 12 years, with no change to your lifestyle, without increasing your income or monthly mortgage payment or refinancing of your existing mortgage." Hmm… Sounded too good to be true.

And I was right. THE MATH DOESN'T WORK! I'll explain.

I just refinanced my house on a 30 year mortgage at 6% interest. How exactly could I pay off my house in 6-12 years without increasing my monthly mortgage payment? Even if my mortgage was at 0% interest and 100% of my payment went to principal, it would still take nearly 14 years to pay it off without increasing my mortgage payment. (Go ahead, do the calculation yourself. Multiply your monthly 30-year amortized mortgage payment not including tax and insurance impounds by 168 months. The answer should be a number slightly higher than your original loan balance. If not, than you may be calculating an interest-only payment or discounted flex payment from and ARM.)

My point is… Interest is interest, whether it's in a first mortgage or a HELOC. If I have a $100,000 mortgage at 6% and I pull $20,000 off a 6% HELOC to pay down my first mortgage, I still have $100,000 in debt at 6%. It's now just split between two loans. The idea they promote is that you put your whole paycheck (let's use $5000 per month as an example) into the HELOC to reduce the balance, then pay for your living expenses out of the HELOC. The HELOC is also used at certain "strategic" times to pay down the first mortgage.

So let's separate fact from hype. FACT: You might save some interest if your HELOC interest rate is very close to your first mortage interest rate. However, the interest savings only amounts to an average of $10-15 per month using the above example of $5000 per month income. What does that translate to? About 1.5 to 2 years off your mortgage term (paying off your 30 year mortgage in 28 years). That's a bit different than what they're promoting.

In the presentation, they passed out a sample report from the software. I filtered through the numbers that they gave (paying off a 30-year $150,000 mortgage at 6.5% interest in 8.4 years). The mortgage payment was listed at $850 per month (which should have actually been closer to $950). They even make the reports difficult to read, but here's how they arranged to pay off that mortage in 8.4 years: They took $5000 in monthly income and applied $2845 per month toward the "system" (note that the amount is three times the original 30-year amortized payment). My first question is, how exactly do you triple your mortgage payment "without altering your current standard of living" and "without increasing your monthly mortgage payment"?

Now here's the good part: Let's take that original loan amount of $150,000 at 6.5% interest. The MMA program was going to pay it off in 8.4 years by applying $2845 per month toward the first mortgage and/or HELOC. Now what would happen if we didn't use the MMA program and just paid $2845 per month toward the first mortgage of $150,000 at 6.5%? Ready for this?… 5.2 years! That's 3 years faster than using the MMA program, just by simply paying the same amount directly to your first mortgage. But how many people can afford to triple their mortgage payment anyway?

The bottom line is that UFF is in the software business. This system was created from a simple concept (accelerated mortgage reduction) and made extremely complex so the average person couldn't understand how the numbers really work. Then they make it look like they're going to save you $100K or more in interest without affecting your lifestyle, so $3500 for a piece of software that's really worth a small fraction of that seems like a bargain. DO THE MATH! They're complicating a simple concept to make you think you need to give them $3500 for a piece of software.
And another commenter who actually paid for the system:
I have been going back and forth with this MMA. I have the MMA program for about 5 months. I spent the 3500 to try it for myself because as a Mortgage Professional I wanted to see what it does and can it really help people. I have debate back and forth with Calvin and others on this thread but I also paid attention to what they were saying and I have come to the conclusion that the MMA product as of now is no more than a glorified spreadsheet. I have to see something more than what I am seeing now with this MMA program. So for now I'm on hold with this until further notice. The more I look at MMA the more I say this can be done with a simple spreadsheet. Maybe I'm missing something here but I don't think so.
The biggest drawback to United First Financial is the $3,500 fee. It is not worth it, and you could accomplish the same thing this program claims to help you accomplish without paying the fee. There are legitimate banking and mortgage products available to consumers that could accomplishe the exact same thing without the fee. Check out this article about "mortgage accelerator loans" from Bankrate.com. This is the concept that UFF is selling, and you can get it for a very small annual fee.
Quite simply… you don't need fancy software to be able to pay more on your debt. In fact, you should keep your $3,500 and use that toward your debts!
United First Financial wants you to think they're just like any insurance agency or mortgage broker… just offering a product that's supposed to help consumers. Like the more successful MLMs out there, they have a "revolutionary" product like nothing you've ever seen before.
Other companies sell magic berry juice. UFF sells magic debt reducer juice. But there's nothing magic about it and you don't need to spend $3,500 to get it. Stay far, far away from this plan.