I'm not a believer that a bad economy means more fraud is occurring. Those who say this is happening simply have no basis for that opinion. Because so much financial fraud goes undetected, it is impossible to determine if it's growing or not. (But saying fraud goes up in a bad economy makes good sound bytes!)
What I believe is happening is that the occurence of fraud is stable, but more frauds are being discovered because of the economy. The intertwined industries of real estate and construction illustrate this… During good times, it was easy for real estate developers to essentially run mini Ponzi schemes, because there was always a new construction project around the corner to provide new cash to finish up old projects. When the real estate market dried up, the Ponzis fell apart because there was no new cash.
The below chart from The Economist, however, does provide some interesting insight into the issue.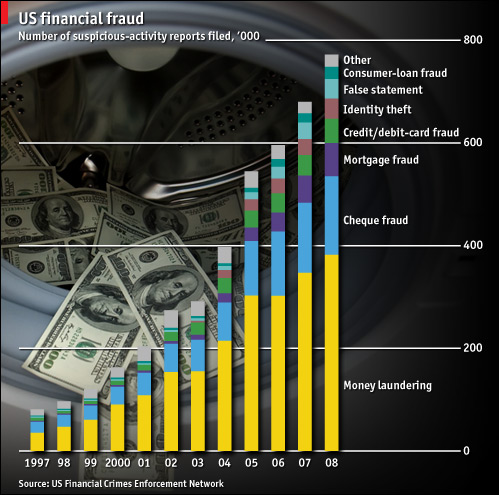 So is more fraud happening or is more fraud just being reported to the authorities? I suspect the latter.
Let me go on record that I'm not a fan of the "Suspicious Activity Reports" that were responsible for the statistics in the above chart. But at least if our government is going to invade our privacy, we can make some use of the data.