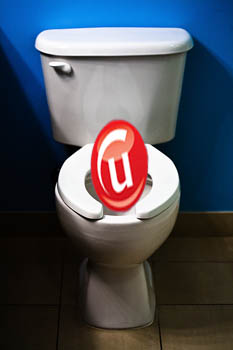 Anyone who has spent some time on this site knows I'm no fan of the United First Financial Money Merge Account (UFF MMA).  This "revolutionary" software is supposed to help you pay off your mortgage in record time, all for the low, low price of $3,500. Unfortunately, it's being marketed with lies, and the UFF proponents who comment here consistently repeat the lies.
The argument in favor of the UFirst MMA that seems most likely to get any traction is: "You just don't understand the product!" I've been asked a zillion times whether I've actually used the product, and have been told I don't really know how it works. Nothing could be further from the truth.
I don't have to flush $3500 down the toilet to know that the UFF Money Merge Account is worthless. I know enough about numbers to analyze the program and see that it doesn't offer consumers any savings. They'd be better off doing one simple thing: Pay the minimum on all debts each month, and use any extra cash they have left toward the debt with the highest interest rate.
UFF would have you believe that some complex "factorial math" is necessary and is what creates the savings for the consumer. But that's a lie.  Sure, there may be hundreds of different ways to pay your 10 debts each month, but only ONE way matters. Paying the minimum on all debts and using all extra cash to pay down the debt with the highest interest rate. You don't have to be smart to do this. It really couldn't be any simpler.
MMA proponents have often challenged me to compare the do-it-yourself (DIY) method I promote (which is free!) and the UFF program (which is $3,500) to see which puts the consumer further ahead. None of them have actually participated in their own challenges, although I'm more than happy to do so.
But we don't need my participation. On FatWallet.com, this challenge has been completed over and over, and the UFF MMA loses every time. Here is a set of links that will show you how the MMA loses. It is astonishing that promoters of United First Financial can still pretend that their product is worthwhile:
The UFF agent proposed 10 different scenarios. Under every single one of them, the consumer using the UFF MMA would lose… taking a longer time to pay off their debts.
UFF Results::
MONEY MERGE ACCOUNT START PAYOFF PERIOD 6.75 YEARS
SCENARIO PAYOFF
1. PAY RAISE OF $50 BIWEEKLY – PAYOFF – 6.667 YRS 8/2014
2. SAVE $150 MO IN BUDGET – PAYOFF – 6.25 YRS 3/2014
3. SPEND $900 FRO 8.5 MO – PAYOFF – 6.583 YRS 7/2014
4. DEPOSIT 3500 – PAYOFF – 6.417 YRS 5/2014
5. SPEND 20,350 FROM EQUITY – PAYOFF – 7.167 YRS 2/2015 TRUE COST IS $28,084
6. BUY CAR-12K PAY MO. PAYMENT PAYOFF – 7.583 YRS 7/2015
7. LOSE JOB OF BIWEEKLY ———- OUT OF MONEY IN 35 MONTHS FROM EQUITY LINE
8. SAVE $500/MO IN CHILD CARE PAYOFF – 20.667 YRS 8/2028
9 NEW BIWEEKLY JOB – PAYOFF – 10.583 YRS 7/2018
10 RUN HELOC AT 18% FROM DAY ONE PAYOFF – 11.167 YRS 2/2019

DIY Results:
Base: 5/2014 (6.5 years)
1. 2/2014 (6.25 years)
2. 10/2013 (5.917 years)
3. 2/2014 (6.25 years)
4. 12/2013 (6.08 years)
5. 8/2014 (6.75 years)
6. 1/2015 (7.167 years)
9. 4/2016 (8.417 years) (7, 8 and 9 are related scenarios.)
10. 5/2016. Note that my simulation did not get affected that much by the HELOC rate increase to 18% because I used HELOC for emergency purposes only. Total HELOC interest incurred (Cell T7, non-compounded) increased from 557.23 to 1487.94 but you are still able to pay off the loan at the same month.

Summary:
The DIY approach had a .25 year (3 months) advantage to begin with because of the $3500 software cost. From scenarios 1 to 6,the DIY approach remained between .20 to .40 year advantage (~2 to 4 months). This is to be expected since we're supposedly running the same scenarios, therefore similar results. The variance of +/- 1 month between the scenarios would be due to the fact that the loan could be paid off in month x, but in certain instances there is some balance left causing the other scenario to finish the following month.

Our end result after scenario 9 are quite different, so we would have to look into that. As mentioned above, the DIY approach did not get affected by the HELOC rate change (Scenario 10).

JHB, I do not need to see your software as we have produced similar results (except maybe for 7, 8, 9 where you end much later). If you disagree on the result in any scenario, investigate the spreadsheet. I display ALL the data monthly. If you think I entered the wrong payment scenario (incorrect start or end month, incorrect amount), go ahead and change it and click on Calculate. It should give you the payoff date.

And now, I rest.
And it was all done with one simple spreadsheet. No factorial math. No complicated paydown scenarios. Just the simple "pay more toward the debt with the highest interest rate" plan.