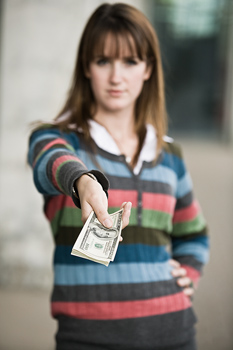 There are many different types of welfare. There are straight-up handouts to those who haven't earned them. There are programs to bridge a gap and help a family in dire need. There are things like unemployment, which people somewhat earn while they work, and collect after they lose a job. There are tax "credits" which are a fancy way of disguising welfare payments. Most are bad. Some are even worse.
And this story on WalletPop.com about a man on unemployment emphasizes why it is so important to reduce all welfare to the absolute minimum, helping only those who are worst off and in an emergency situation.
The story starts innocently enough: The failure of Congress to pass a particular bill means 1.2 million unemployed people won't get extended unemployment benefits.
The author is entitled to his own opinion about whether or not this bill should be passed. I, of course, think it should not be passed because it expands government even more during a time when government should be shrinking. We don't need another cost put on the working people and the entrepreneurs (who incidentally start companies that create jobs, unless the government makes it too risky or cost-prohibitive).
But the author of the article, Aaron Crowe, probably picks the worst possible person to hold up as a "victim" of this unpassed bill.
The "victim," Richard Hutnik of Poughkeepsie, New York, has been on the government dole for  three years. He cites his weekly unemployment check at $430, and if you do the math, that works out to over $67,000 collected by Hutnik for the last three years for not working.
But Hutnik wants more. He's 42 years old, and appears to have no responsibilities in life other than paying for a $630 dorm room he rents. Yet in three years he hasn't been able to find gainful employment? NO. In three years he hasn't found a job he wants to take, and why should he, if he's able to survive on welfare for three years without ever lifting a finger? He even goes so far as to admit that he could have a job at Wendy's if he wanted one, but obviously it's a lot more convenient to sit at home and get $430/week for doing nothing than actually going to a job.
We're supposed to feel sorry for Hutnik because after receiving $67,000 for doing nothing, he wants his unemployment benefits extended even more. Otherwise he'll have to go live with his "emotionally abusive" father.
(UPDATE: The WalletPop writer has amended his article to say that the benefit of $430 was every two weeks, equalling annual payments to Richard of $11,180, for a total of$33,450. This makes his refusal to take a lower paying job even more ridiculous. Certainly there are jobs paying more than the $932 per month he's receiving from unemployment. Even with an $8 an hour job, he could substantially improve his financial situation.)
Dude. Hutnik should have taken a job flipping burgers about 33 months ago, and should not have been allowed to collect unemployment for three years. Sure, he might have had to take a job he didn't like, or one he felt over-qualified for, or one that is not in his field of expertise. But that's what we as Americans should do…. support ourselves instead of expecting someone else to do it.
There was a time shortly after graduate school when I was working three jobs. I had a professional job, a part-time retail job, and a bar gig on the weekends. Why did I do it? Because I wanted to survive financially. And it didn't kill me.
But why should Hutnik get a job if we're going to allow him to sit on his butt for 3 years and get paid for it?
We don't need more unemployment benefits. We need our citizens to be more motivated to take jobs that will help them get by. If they're working and the government is handing out less money, then our economy grows. It's simple economics that it's better for people to be working and keeping the cash within the private sector, rather than having our government raise our taxes (which discourages job creation) and passing out money to those sitting around.
I realize that plenty of people can't find jobs in their fields, and they won't like the job or the pay that they may be able to find. But people should do what is necessary to get by until they can find a better or more suitable job.
Hutnik has a master's degree in information systems and is supposedly looking for a job in his field. I don't think he did himself any favors by tell his tale of woe to WalletPop. Imagine  being an employer interested in Hutnik and imagine doing a Google search. And up pops this article with him crying over not being able to feed at the government trough for more than three years. Would you hire him? I wouldn't.