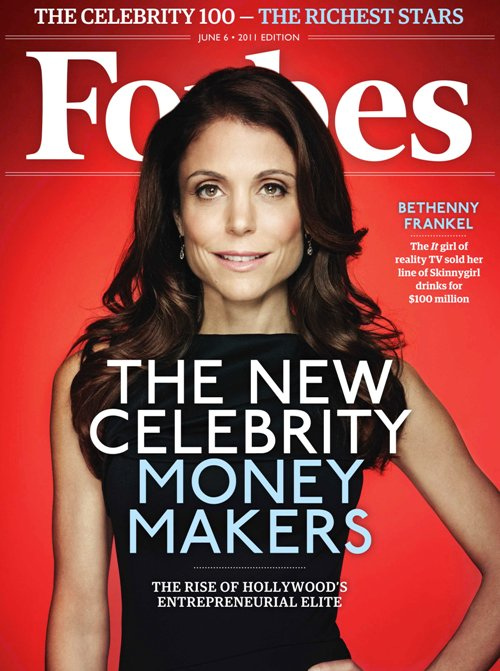 Rob Shuter, known as "Naughty But Nice Rob," has been busy over at Huffington Post, trashing Bethenny Frankel for her sale of the Skinnygirl cocktail line to Fortune Brands earlier this year. In an October 11 story, Bethenny Frankel's Skinnygirl Business Was Not Sold For $120 Million, Rob claims that the drink line was actually sold for $8.1 million.
He states the following based on his reading of the 10-Q for Beam Inc. (formerly called Fortune Brands Inc.) for the period ended June 30, 2011:
A U.S. Securities and Exchange Commission quarterly report form clearly shows that the Fortune Brands, Inc. acquisition of the Skinnygirl ready-to-drink cocktail business was for $8.1 million.
The problem is, that's not what the filing says. The 10-Q reports on page 10 that the company booked $8.1 million in intangible assets related to the sale:
Amortizable identifiable intangible assets, principally tradenames, are subject to amortization over their estimated useful life, 5 to 30 years, based on the assessment of a number of factors that may impact useful life. These factors include historical and tradename performance with respect to consumer name recognition, geographic market presence, market share, plans for ongoing tradename support and promotion, financial results and other relevant factors. The gross carrying value and accumulated amortization of amortizable intangible assets were $861.1 million and $396.0 million, respectively, as of June 30, 2011, compared to $840.0 million and $377.7 million, respectively, as of December 31, 2010. The gross carrying value increase of $21.1 million was due to changes in foreign currency translation adjustments ($13.0 million) and the acquisition of the Skinnygirl ready-to-drink cocktail business ($8.1 million).
That doesn't mean, however, that Skinny Girl sold for $8.1 milion. How could Rob have gotten this so wrong? Obviously by not reading (or understanding?) the quarterly report he cites.
The 10-Q states the following on page 11:
In March 2011, we acquired the Skinnygirl ready-to-drink cocktail business. The acquisition included inventory and identifiable intangible assets. In addition to goodwill, we recorded contingent consideration which is based on the achievement of certain sales targets. In future periods, the Company may be required to record contingent consideration in an amount not in excess of approximately $25 million. Any change in the Company's estimated liabilities for contingent consideration will impact operating income in future periods. The acquisition was not material for purposes of supplemental disclosure (per ASC 805).
The 10-Q further states the following on page 39:
Net cash used in investing activities for the six months ended June 30, 2011 was $120.2 million, compared with cash provided by investing activities of $29.8 million in the same six-month period last year. This $150.0 million change was primarily due to the acquisition of the Skinnygirl cocktail business, the absence of the 2010 disposition of the Cobra golf product line ($88.9 million) and higher capital spending ($29.1 million).
What does this tell us about the Skinny Girl acquisition? Not enough. The 10-Q doesn't confirm any price tag, it only says that the company spent $120 million on investing during the six months ended June 30, 2011, which included $98 million in capital expenditures and $40 million of acquisitions. We know that the company purchased Skinnygirl inventory (but we don't know how much), goodwill was recorded in the amount of $8.1 million, contingent consideration was recorded in an unknown amount, and there may another $25 million recorded in the future.
Simply put, we have no idea how much Beam paid for Bethenny Frankel's Skinnygirl line, but it was more than the $8.1 million Naughty Rob is claiming.
Without knowing how the company booked the purchase transaction, it appears to me that the purchase price could have ranged from $40 million to $120 million. This is a far cry from the $8.1 million Rob is claiming was the purchase price. (Of course, he'll still complain if the number is anything less than $120 million. He conveniently forgets that Bethenny never told anyone how much she sold her company for, and the $120 figure was from unknown sources.)
Naughty Rob is trying to get additional mileage out of this non-story by posting an additional (shocking!) story, Forbes Magazine Looking Into Bethenny Frankel's $120 Million Lie. He writes:
Bethenny Frankel has been caught distorting the truth for a second time in one week. After she told Ellen DeGeneres that she had been "lost at sea" for 21 hours, it was discovered that she'd failed to mention she had her reality TV camera crews with her, and the captain who "rescued" them has admitted the group was in no danger. Now, it turns out that Bethenny's "all natural" Skinnygirl cocktail mix, reportedly sold for $120 million, was actually sold for $8.1 million.

When news of the former "Real Housewives of New York" star's Skinnygirl sale broke, Forbes magazine reported that she was one of the highest-earning women in entertainment, topping Beyonce, Taylor Swift and Angelina Jolie. But now the magazine has issued a tough statement about the lady who graced its cover.

"We're taking this very seriously. We based our numbers at the time of reporting on solid sources. We're aware of the new information [uncovered by HuffPost Celebrity] and we're looking into it right now," Dan Bigman, Forbes executive editor, tells me. "We're going to review all the information thoroughly and talk to Ms. Frankel before taking any steps. If there are any inaccuracies, we'll correct them. If clarification is required, we'll do so."
Fortunately, the staff at Forbes is a little better at reading SEC filings, or at least able to locate the "find" function in their browser and enter "skinnygirl" when looking at the page for the 10-Q in question.
And please remember… Bethenny Frankel has no obligation to disclose to any of us how much she sold her business for. Just because everyone else is talking about it doesn't mean that she's required to talk about it.