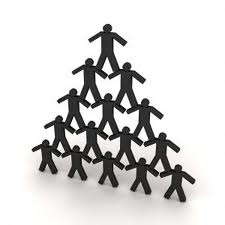 Recently Bruce Craig, a retired lawyer from the Wisconsin Department of Justice in the area of consumer protection, published an interesting article on multilevel marketing: An Investor's Guide To Identifying Pyramid Schemes. The controversy surrounding Herbalife (NYSE: HLF), and initiated simply because David Einhorn asked a few questions about the company, was the impetus for Bruce's comments.
I believe that most mulit-level marketing companies (MLM, for short) are pyramid schemes that are allowed to operate in the United States. They are very careful in their efforts to avoid the label of "illegal pyramid scheme," but that doesn't mean they're not pyramid scheme in substance.
BurnLounge is one of the very few MLM companies that the government pursued and called illegal. I did an analysis of some of the characteristics of BurnLounge and how MLM may be very similar. Nonetheless, our government (both at the federal and state levels) generally turns away from MLM and refuses to pursue these companies for swindling consumers out of billions of dollars each year.
Bruce prosecuted a number of pyramid schemes while working for the State of Wisconsin, most notably a case against Amway for deceptive practices. He was able to document that the TOP 1% of distributors had annual net LOSSES averaging $900 per year. Let that sink in for a minute. Multi-level marketing companies live and die by recruiting new distributors, and those new distributors are recruiting almost exclusively on the basis of the income opportunity. Yet the top earners in Amway were losing money!
Bruce writes:
What interests me in this respect is the uncertainty in these discussions as to just what a pyramid scheme is and what are the distinguishing factors between such a scheme and purportedly legal "Multi-Level Marketing." It appears that a major area of dispute on legality is the existence of "retail sales." At issue as well is the question whether a pyramid style offering is inherently deceptive due to its structure, one which depends on the exponential recruitment of prospects and which cannot, because of market saturation, truthfully offer a valid opportunity to those who enter late in the process. Wisconsin's law against pyramids has no retail sale element, and has been upheld by the Wisconsin Supreme Court.
He cites an important case involving the FTC and pyramid schemes, Holiday Magic (1974 – 84 FTC 748, 1037):
A plan which holds out the opportunity of making money, by means of recruiting others, with that right to recruit being passed on as an inducement for those others to join, and being passable by them ad infinitum, contains an intolerable potential to deceive, quite apart from whatever particular representations may be made in promoting the plan. A plan involving such unlimited recruitment which extracts a valuable consideration from individuals in return for the opportunity to participate in it, threatens severe injury since at some point the likelihood must arise that participants will be unable to recoup their investment of money and time in the manner held out as reasonable. The Holiday Magic marketing plan meets these criteria entirely. To say that it is 'inherently' deceptive is to say no more than that it contains this intolerable potential to deceive, and on those grounds as well the plan requires condemnation.

Indeed, a tragic aspect of this case is that the challenged marketing plan was not obliterated in its infancy, before the seed of deception ripened into the poisonous fruit of fraud and oppression. The Commission will consider carefully in the future whether marketing plans of the sort involved here are a suitable target for its newly-gained authority to obtain injunctive relief.
And another important case, Koscot (1975 – 86 FTC 1106, 1180, 1186):
Such schemes are characterized by the payment by participants of money to the company in return for which they receive (1) the right to sell a product and (2) the right to receive in return for recruiting other participants into the program rewards which are unrelated to sale of the product to ultimate users. In general such recruitment is facilitated by promising all participants the same 'lucrative' rights to recruit.

As is apparent, the presence of this second element, recruitment with rewards unrelated to product sales, is nothing more than an elaborate chain letter device in which individuals who pay a valuable consideration with the expectation of recouping it to some degree via recruitment are bound to be disappointed. Cf. Twentieth Century Co. v. Quilling, 130 Wis. 318, 110 N.W. 173, 176 (1907). Indeed, even where rewards are based upon sales to consumers, a scheme which represents indiscriminately to all comers that they can recoup their investments by virtue of the product sales of their recruits must end up disappointing those at the bottom who can find no recruits capable of making retail sales.
Also from the Koscot case:
2. Offering, operating, or participating in, any marketing or sales plan or program wherein a participant is given or promised compensation (1) for inducing another person to become a participant in the plan or program, or (2) when a person induced by the participant induces another person to become a participant in the plan or program; Provided, That the term 'compensation,' as used in this paragraph only, does not mean any payment based on actually consummated sales of goods or services to persons who are not participants in the plan or program and who do not purchase such goods or services in order to resell them.
And from the more recent BurnLounge case, FTC v. BURNLOUNGE INC. Case No. CV 07-3654-GW(FMOx) UNITED STATES DISTRICT COURT CENTRAL DISTRICT OF CALIFORNIA WESTERN DIVISION:
Typically, pyramid schemes depend on perpetual recruitment of new participants in an exponential fashion, such that the scheme "may make money for those at the top of the chain or pyramid, but 'must end up disappointing those at the bottom who can find no recruits. '"Webster v. Omnitrition Int'l, 79 F.3d 776, 781 (9th Cir. 1996) (quoting In re Koscot Interplanetary, Inc., 86 F.T.C. 1106, 1181 (1975)) ("Koscot"). Pyramid schemes are inherently fraudulent "because they must eventually collapse." Id. At 781.
What does all of this mean? Bruce explains that there is ambiguity in the law, and this allows companies like Herbalife to continue to operate with little intervention from our government. And the issue of "internal consumption" (distributors buying products for themselves) is ripe for disagreement. Should the products consumed (or stockpiled, as is often the case) by the distributors themselves count a "retail sales" when evaluating MLMs?
The BurnLounge final judgment clearly stated that sales of products to distributors or their recruits are not to be consider retail sales:
"Prohibited Marketing Scheme" means an illegal pyramid sales scheme (see e.g., Webster v. Omnitrition Int'l, 79 F.3d 776, 781 (9thCir. 1996), Ponzi scheme, chain marketing scheme, or other marketing plan or program in which participants pay money or valuable consideration in return for which they obtain the right to receive rewards for recruiting other participants into the program, and those rewards are unrelated to the sale of products or services to ultimate users. For purposes of this definition, "sale of products or services to ultimate users" does not include sales to other participants or recruits or to the participants' own accounts."
Bruce points out that
multi-level marketing companies are notorious for NOT TRACKING retail sales
.  (They claim they don't track it because the distributors are "independent" and therefore the companies bear no responsibility for or no way to track retail sales.) Instead, MLMs just
assume
that all products sold to distributors are eventually sold to retail customers.
He further argues that this focus on retail sales "…completely ignores the fundamental premise of the Holiday Magic and Koscot cases, ratified by recent decisions, that these plans are 'inherently deceptive." due to their exponential characteristics.
The bottom line is that almost everyone involved in multi-level marketing loses money. Yet over and over, the promoters of MLMs pitch it as a "business opportunity" in which the distributors control their own destiny. The failure of MLM is in its structure. Almost no one wins because the structure does not allow it. Yet the government continues to turn a blind eye to the deception.
MLMs make it appear that they are following the law, because they know that as long as they are in a gray area (of which there has been a longstanding debate), the government will not take a stand. Not even against the deception involved in recruiting people into an "income opportunity" in which they are almost guaranteed to fail.