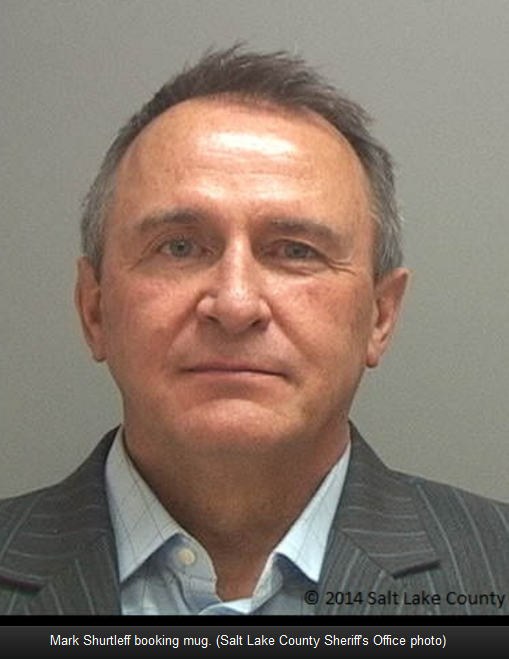 Back in 2008, I wrote several articles about the suspicious activities of Utah Attorney General Mark Shurtleff. Specifically, I questioned the campaign contributions her received from Pre-Paid Legal Services (now Legal Shield), a company that I suggested was a thinly veiled pyramid scheme. I also criticized campaign contributions from Overstock.com.  Then there was the whole thing with DigitalBridge.
It took some time, but it appears that the law may have caught up with former Utah Attorney General Mark Shurtleff at last. Mark Shurtleff was arrested this morning along with another former Utah Attorney General, John Swallow.
According to the Salt Lake Tribune:
Shurtleff was booked on suspicion of three second-degree felonies: one count of unlawful acts and two counts of receiving or soliciting bribe or bribery by a public servant. Court documents show he is charged with 10 felonies, seven second-degree felonies for a pattern of unlawful activity, receiving or soliciting bribes and accepting gift, compensation or loan when prohibited and improper use of a employees position. Three third-degree felonies included tampering with a witness, tampering with evidence and obstructing justice.
The Salt Lake Tribune goes on to report the following about the charges against Shurtleff:
Shurtleff and Swallow are accused of taking illegal gifts from the now-indicted Jeremy Johnson at a time when Johnson was seeking a legal opinion that would enable the St. George businessman to process online-poker transactions. Both men rode on Johnson's private jet and stayed in his St. George homes. Swallow also twice used Johnson's luxury Lake Powell houseboat.
Shurtleff and Swallow are accused of staying in the lavish Newport villa of now-jailed businessman Marc Sessions Jenson, while Jenson was free on a plea deal to securities charges that Shurtleff was directly involved in negotiating and while Jenson was still under the supervision of the attorney general's office. The gifts exceeded limits for public officials, although the trips occurred before Swallow joined the office.
Shurtleff is accused of hitting up Jenson for $2 million to pay another businessman, Darl McBride, to stop criticizing Utah developer and businessman Mark Robbins.
Shurtleff also allegedly dismissed a massive mortgage fraud lawsuit against Bank of America against the wishes of his own staff prosecutors at a time he was negotiating a job with a law firm that represented the bank.
And law enforcement said in a press conference that they could have filed more charges against Shurtleff and Swallow!
Hang on, Mark! It looks like it is [finally] going to be a bumpy ride!
UPDATE: Here is a picture of Shurtleff coming out of jail…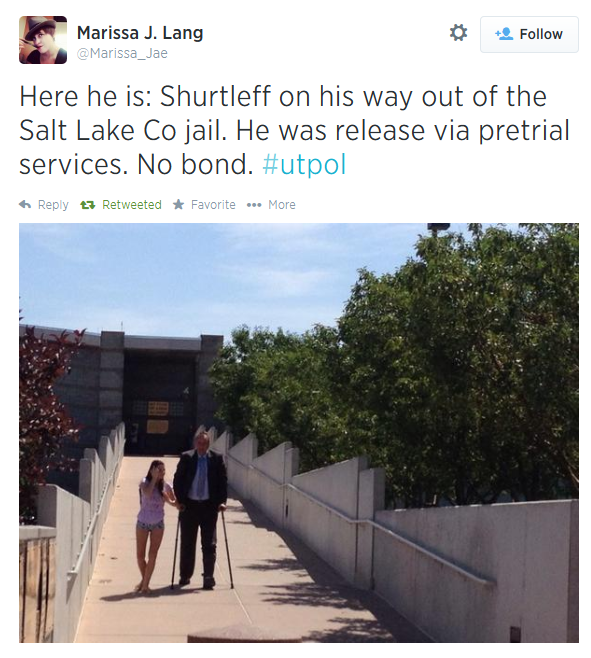 And here is some interesting information on the case:
To date, 15 search warrants have been unsealed in the 18- month probe, including three earlier this week. The latest were served June 2 on the Sandy homes of Swallow and Shurtleff and the Salt Lake condominium of Renae Cowley, a former campaign staffer for the two Republicans who now works as a Salt Lake lobbyist.

Some of the allegations center on Swallow and Shurtleff's relationships with Jeremy Johnson, a St. George businessman who is named in an 86-count federal indictment alleging fraud in connection with his online business, iWorks. The once-lucrative enterprise also is the subject of a Federal Trade Commission complaint.

Shurleff is accused of using Johnson's private jet to fly to a fundraiser in California, and in another incident, using his plane to fly to New York to pick up actor Vincent D'Onofrio from the TV show "Law & Order," according to court documents. Pictures of Johnson and Shurtleff sitting together in Johnson's yellow Lamborghini are on the Internet, the affidavits state.

Swallow used Johnson's luxury houseboat and Ferrari on several occasions while he was chief deputy in the attorney general's office, the warrants state. At least one of Johnson's houseboats was so large that it included a helicopter pad.

Investigators also are looking at the relationships Shurtleff and Swallow had with another wealthy businessman, Marc Sessions Jenson, and how the attorney general's office handled his prosecution for securities fraud.

A report released earlier this year by Attorney General Sean Reyes described Shurtleff's "unusual" involvement in Jenson's case, which started after some investors, including a campaign contributor, alleged to Shurtleff that Jenson defrauded them. At the same time, Jenson and his associates gained access to Shurtleff by paying his self-described "fixer," Tim Lawson, at least $114,300, according to the report.

Jenson claims Swallow and Shurtleff took him down during an all-expenses-paid visits to his Southern California villa. He also accused Swallow of securing a "quid pro quo" agreement from him for a $1 million lot in the planned members-only resort development known as Mount Holly.

Jenson is serving a 10-year prison term for failing to pay $4.1 million in restitution after pleading no contest to selling unregistered securities.