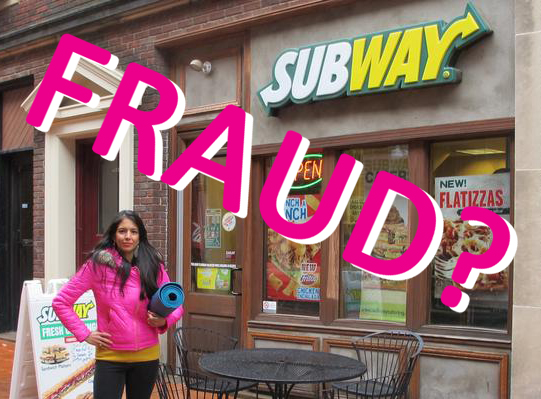 I have Facebook friends who regularly "like" posts by Food Babe Vani Hari.  She has a cult-like following of people who listen to her as she screams bloody murder about all sorts of food.  FoodBabe, known to some as a "food activist," loves to talk about all the chemicals and toxins in the food we eat. Sounds great, right? We all need to be more aware of what we're eating!
But it's not quite so simple. Food Babe (Fraud Babe?) isn't doing this out of the goodness of her heart. This is a business, people.  Paranoia and hysteria bring readers, readers bring revenue. It's just that simple.
I'm not against anyone making a money, but I think it is important to look at how that money is made and what actually makes the "expert" an expert. More particularly, is someone a blogger who claims to be an expert? Or is someone an actual expert who just happens to blog?
FraudBabe is a self-annointed expert (who as you will see, is no expert at all) who makes money via pay-per-click advertisements (you click on an ad, she gets paid), affiliate links (she makes money when you click and buy), the sale of her "eating guide," and speaking engagements.
Vani Hari denies that she does the Food Babe thing make money:
Ms. Hari, who left what she said was a lucrative management-consulting job in late 2012 to pursue full-time activism and blogging, responded in an interview that "I'm not doing this to make money." She added: "This is my life. This is my passion. This is my calling. There is no way I would put myself on the line like I do because of money. This is all about what I've learned, and I have to tell everyone."
But Vani Hari relies on alarmism and pseudo-science (actually, often no science whatsoever) to rally her fans around her negative PR campaigns. Her interest in food activism started with non-science (nonsense?):
Sometimes when she tells her story, she says she suffered from "a serious health crisis." It actually was appendicitis, in 2002. Although appendicitis is not often linked to nutrition, she decided hers was caused by inflammation she blamed on her diet.

She calls it "a light-bulb moment." She started reading about organics and changed to a diet free of processed foods. Although she isn't a vegetarian, she gave up beef and says she only eats organic or locally raised chicken and fish.
The fact is that Food Babe uses bad logic, and she's often just plain wrong. She promotes the idea that if you can't spell or pronounce something, you shouldn't eat it. It was wisely pointed out that the average person can't pronounce pyridoxine hydrochloride, which is vitamin B6, which is actually very good for adults. Hello!
Food Babe has been referred to as a quack, or in other words, she is to food what Jenny McCarthy is to vaccines. (That's bad. Very bad.) Look no further than her hysteria surrounding a chemical used in bread baked by Subway, which she claimed is also used in yoga mats. The problem is that she completely mischaracterized how the chemical is used in each, and she completely ignores the fact that there may be more than one perfectly safe use of the same chemical.
Surgeon (yes, a real doctor) David Gorski writes:
Unfortunately, when faced with a young, telegenic, clever but scientifically ignorant blogger who used her popular website and blog to gather a bunch of signatures rooted in the same "yoga mat chemical" ignorance she promotes, Subway caved, even though there is no good evidence that azodicarbonamide is harmful and lots of good evidence that it's useful as a maturing agent. Basically, when it's added to flour, it makes bread dough rise better. It also improves the handling properties of dough, making it drier, more cohesive and more pliable, allowing it to hold together better during kneading. No wonder uber-quack Mike Adams is so impressed with her. The two are kindred spirits, given how Mike Adams has been doing, in essence, the same sort of thing with a mass spectrometer, using it to measure heavy metals in various foods and supplements as fodder for fear mongering campaigns to demonize the food industry, not to mention to undercut competitors in the supplement business.
Summarized by the Charlotte Observer:
Dr. William Schaffner, chair of the Department of Preventive Medicine at Vanderbilt University, looked at the post at the Observer's request and found numerous problems.

"She takes facts that may be technically true, but then she runs with it and goes down roads that are inappropriate and frankly misleading," he says. "There's facts there, but then they're misinterpreted."
Who do you believe? The Food Babe, a computer engineer who worked for a bank and now has opinions (many of them seemingly devoid of actual scientific proof) on food…. or a neurologist who is a professor at the Yale School of Medicine, who says about Vani Hari and her Subway bread attack:
This is the worst example of pseudoscientific fearmongering I have seen in a while, and that's saying something.

Vani Hari, a blogger known as "food babe," has started a petition to get Subway to remove use of the chemical azodicarbonamide from their breads. She writes:

Azodicarbonamide is the same chemical used to make yoga mats, shoe soles, and other rubbery objects. It's not supposed to be food or even eaten for that matter. And it's definitely not "fresh".

This, of course, is utter nonsense – that is, the notion that because a chemical has multiple uses, included in non-food items, that it is not "supposed" to be eaten. Azodicarbonamide (ADA) is used as a blowing agent in the formation of certain rubbers and sealants. It is used, for example, in sealing the tops of baby food containers, but also in the production of certain plastics and rubbers. It is also used as a bleaching agent for bread, giving it a softer and fluffier quality. None of this says anything about it's safety at the levels used.
He goes on to say: (emphasis mine)
Hari the food babe has created a classic piece of pseudoscientific scaremongering, worthy of dihydrogen monoxide. She has collected a group of factoids that superficially appear scary, but do not relate to the risk of ADA as used in bread. They are designed to mislead and to stoke fears based upon scientific misunderstanding.

She also pulls the common scam of linking to references to support her claims, but not fairly representing what those references actually say.

Unfortunately, it appears that Subway is caving to this petition. I can't blame them. It's easy to fearmonger, especially about food, and more difficult to reassure customers with sober scientific facts. They have to think of their business bottom line.

But this essentially means that any blogger can hold any corporation hostage by simply grossly misrepresenting the scientific facts. It is unfortunate – it's similar to caving into terrorism. I would hope, rather, that the food babe would be exposed for what she is, and that corporations would fight back against these nonsensical attacks.
There was also the computer engineer's advice against getting the flu shot. The total lack of science behind her advice was destroyed by Dr. Mark Crislip, who said:
She continues, jumping straight into the toxin gambit:

What's exactly in the Flu Shot? To sum it up – A bunch of toxic chemicals and additives that lead to several types of Cancers and Alzheimer [sic] disease over time

See what I mean. All the components of a sentence but with zero true content, like a diet Coke. As we will see, Food Babe is, somewhat ironically, the aspartame of medical understanding. More the fool me, I thought the flu shot was predominantly proteins derived from the influenza virus grown in eggs or from recombinant technology selected for their ability to elicit protective antibody. And vaccines and their components cause neither cancer nor Alzheimer's.

[snip]

I admire the way Food Babe can take a complex and nuanced topic and distill it down to an aliquot of pure error. It is a talent rarely seen outside of the Tea Party.

And she has a poor concept of vaccination and immunity and is under the false impression that vaccines are both lifelong and perfect:

Why do I have to get a Flu Shot every year? Aren't vaccines suppose [sic] to immunize you for life? (Err, no – MC)…And this brings me back to my previous point – if the flu vaccine were truly a vaccine – it wouldn't wear off. Think about it – Once you get chicken pox as a child, your body develops antibodies to strengthen your immune system from ever getting chicken pox again (Um, reinfections can occur and there is shingles – MC) This is how vaccines are suppose [sic] to work. But the flu shot doesn't work this way.

Another perfect misunderstanding of reality with every assertion incorrect. Of course doctors do not suggest the flu vaccine because it prevents morbidity and mortality, but because big Pharma makes money from the flu.

[snip]

An almost reality-free discussion of the influenza vaccine is, in a hideous kind of way, a thing of beauty. That people may make decisions based on this fictional account of the flu vaccine flabbers my gaster, any disclaimer notwithstanding. It is a good thing for Food Babe that understanding reality is not a part of being fit to survive, but I sure hope she is never exposed to influenza, especially if pregnant.
More examples of Vani Hari's fake science were pointed out by nutritionist Colby Vorland: (emphasis mine)
EVEN BEFORE CONSIDERING THE MISREPRESENTATION OF TOXICOLOGY RESEARCH, let's look at why a simple 10 minute assessment of Hari's credibility should give pause to any reporter giving her the time of day.

-She has a degree in computer science, not nutrition or anything with a background in learning how to read research: http://clclt.com/charlotte/lust-list-2012/Content?oid=2616360

More importantly, she shows that she lacks the ability to identify credible resources:
-Thinks the flu vaccines is not efficacious and thinks it is toxic http://foodbabe.com/2011/10/04/should-i-get-the-flu-shot/

-Thinks microwaves are a risk because of radiation, destroying nutrients, and changing the structure of water (seriously) http://www.science20.com/cool-links/the_food_babe_took_down_her_goofy_microwave_oven_post_science_win-140892

-Says artificial sweeteners cause cancer, obesity; links to Mercola who is the internet's worst health source http://foodbabe.com/2013/01/25/coca-colas-low-calorie-beverages-will-kill-you-before-they-solve-obesity/?sb

-Thinks GMOs cause obesity (same link above)

-Includes links throughout to naturalnews.com, the 2nd worst health source on the internet e.g. http://foodbabe.com/2012/04/16/panera-bread-the-healthiest-fast-food/?sb

-She has stated in the media that "When you look at the ingredients, if you can't spell it or pronounce it, you probably shouldn't eat it," http://abcnews.go.com/Health/protesters-target-subway-chemical-sandwich-bread/story?id=22373414 this is of course an absurd rule (can the average person pronounce pyridoxine hydrochloride – vitamin B6?)

There is a common theme in these and all other posts: she picks out an ingredient she thinks is scary, links to poor sources to play up a health risk by misinterpreting toxicology studies (using large doses of anything causes cancer or other health problems at high doses- even natural plant chemicals http://toxnet.nlm.nih.gov/cpdb/MOEtext.html#cram), and doesn't look to science-based organizations. She often appeals to moms, pitting big companies against their child's health. Of course, nothing I highlighted is evidence-based: the flu vaccine works and is not toxic, microwaves are safe (and actually increase some nutrients), GMOs are considered safe by all credible science organizations, and artificial sweeteners do not cause cancer. These are some of the most studied topics in health that we have strong answers to, yet she gets them completely wrong. Reporters should recognize this and not lend her the attention they give her!
I'm sure Vani Hari is smart enough to educate herself on food and nutrition, in spite of her degree being in computer science. It just seems that she chooses not to. And for that, some (including me) are of the opinion that she is a fraud.
The companies Vani Hari attacks sometimes give in to her and change their products. Why? Because she creates a public relations nightmare, even when she's completely wrong. Food Babe has such a large following, many of whom appear to blindly (and wrongly) trust her. So when she stirs the pot, companies sometimes feel like they have no choice but to change in order to appease her.
Why is Food Babe so interested in promoting her nonsense? I submit to you that it is all about the money. And it's not just the money from advertising, affiliate links, or speaking engagements. No doubt, these are incredibly lucrative. Each time Vani Hari attacks a food company, other companies with allegedly healthier alternatives jump on the bandwagon and throw money into advertising and promotions. Food Babe has a large, captive, lucrative audience:
There's no doubt that the Food Babe is photogenic and also has a talent and penchant for making her utter ignorance of chemistry and science work for her as a powerful P.R. tool that has catapulted her from an obscure food blogger to a guest on television shows such as The Doctors and that repository of all medical crankery and quackery, The Dr. Oz Show, where The Great and Powerful Oz himself praised her activities as part of the "Oz effect." Her name is Vani Hari, but she is much better known by her blog name, The Food Babe.
But there is other money to be made in this food fight. Here is where it gets interesting.  On August 20th and August 28th, The Farmer's Daughter posted articles about Food Babe on her blog. Today, those articles are gone from the blog. But thanks to the miracle of Google Cache (which sometimes doesn't last for long), we can still see what she had to say about Vani Hari.
The first article, Give Food Babe an Inch, takes Hari to task for harassing companies until they agree to have her do "consulting" for them. Vani Hari denies that Subway paid her to do consulting work. But she was paid by Chick-fil-A for consulting work after she started a negative campaign against the company. And she did not disclose on her website that Chick-fil-A paid her.
It is only fair to question whether other companies have paid Food Babe after she attacked them publicly. I recognize that as a business owner, she doesn't necessarily owe that information to anyone. However, it would be intellectually dishonest to pretend that it doesn't matter if her targets pay her off, either as a preventive measure or after she attacks them.
The second article on The Farmer's Daughter's blog, Food Babe: Pot, Meet Kettle, was written when The Farmer's Daughter temporarily removed the first article from the site.  Vani Hari sent her a Facebook message claiming that the first article was "defamatory and inaccurate," with a demand to remove the article.  What's funny about that message is that Vani Hari makes wildly inaccurate claims about companies and their products on her blog, but she gets upset when someone might have misstated something about her. (As far as I can see, the only potential problem with the first article is that it seemed to imply Subway paid Hari for her consulting. She says they did not, and the article was clarified.)
Why have both of these articles been removed from The Farmer's Daughter's site? I don't know, and she hasn't responded to an email I sent this morning inquiring about it. I have to wonder if Food Babe is concerned about her fans learning that at least one company has paid her for "consulting" following a negative splash by her. Right now, the only other evidence of that seems to be buried in an article in the Charlotte Observer and an article in the Chicago Tribune. I suspect more targets of her negative press have paid up, and Vani Hari is hoping we don't find out about them. (For the lawyers: This is just an educated guess, and I have no evidence. Don't bother with a cease and desist letter, as my opinions are legally protected by the First Amendment. 🙂 )