A few months ago, I was asked to beta test PerfectAudit software by Ocrolus.The software has used other names such as AuditGenius (auditgenius.com now forwards to perfectaudit.com) and Medicaid Genius. Promotional emails are being sent from the domain perfectauditpreview.com, which forwards to perfectaudit.com. The company is currently marketing to service providers in the divorce arena, and they say that firms such as Met Life, RGL, and Duff & Phelps are using the site for divorce cases.
The website bills Perfect Audit as a "game changer" for those who depend on data from bank statements and credit card statements. It's a great concept! PerfectAudit will use OCR technology to pull the data off the statements, put the data into a searchable database, and you have access to data that is guaranteed to be 100% accurate.
But the product is terrible and doesn't even come close to doing what they say it does. Here is what they say it does: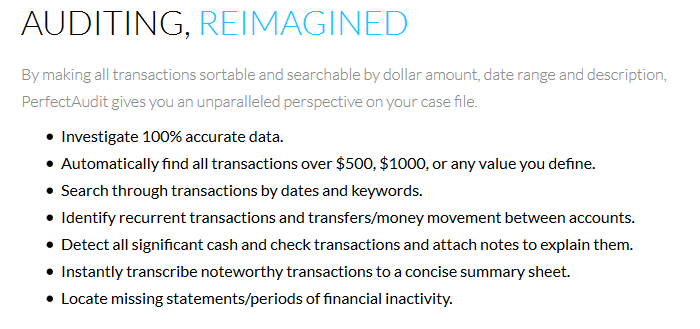 The biggest problem with Perfect Audit is the 100% accuracy guarantee. In a promotional email, Peter Bobley (company founder) says:
And since we sync the transaction data to bank balances the data is guaranteed to be 100% accurate.
Sam Bobley, who lists himself as co-founder of the company, says in his LinkedIn profile:
For the first time, auditors are quickly able to work with a perfectly accurate digital database of transactions while performing financial investigations.
My experience with the site was different. While PerfectAudit said my data was synced (and therefore accurate and complete), it was not. How did this happen? The OCR engine is imperfect, and doesn't always capture all the data. When it missed data on my project, Perfect Audit had overseas data entry clerks manually enter the data. They didn't bother to check their work; they didn't even reconcile to transaction totals on the statements; they just said it was synced and moved on.
Unfortunately, there were major errors in the data. There were missing transactions, and there were many transactions that were duplicated. In essence, I had a completely unreliable database of thousands of transactions, and I had to go through it line by line to correct the errors.
Even the process of manually reconciling the data was made more difficult by Perfect Audit. The data could not be be sorted in statement order. In other words, when I'm trying to reconcile the data and look for missing or duplicated transactions, it is important for the data to be in the same order as on the actual statements. I can then scan down the statements and match transactions in the database to find my problem. If the transactions in the database are in random order, the process of matching the database to the statements takes infinitely longer. I spent hours trying to reconcile the data so I could have a usable set transactions.
Perfect Audit touts the ability to search transaction data:
The site enables users to instantaneously search, sort and note transactions by date range, dollar amount and more – even simultaneously from thousands of pages from multiple banks.
Again, the concept is great, but the reality is different. Searchability is only useful if your data is accurate (see above) and if all of the information from the bank and credit card statements is put into the database. When the OCR engine doesn't pick up a transaction, the poorly paid data entry people manually enter the data into the database. But they don't enter exactly what they see. They take shortcuts and make abbreviations that don't always make sense.
If you rely on information beyond the payee, the data entry clerks don't capture that. For example, you may have a case in which the location of the transaction is important. The credit card statements often list the merchant name and the city in which the transaction was made. Many times there is also a phone number listed with the transaction, which can be helpful if you're trying to figure out who the merchant is or what was purchased. The data entry personnel only enter the payee (sometimes abbreviated, as noted above) and they don't enter the remaining information on the statement, so you find yourself with incomplete information.
Then there is the pricing. The cost is $0.40 per page processed. That sounds reasonable, but there are a couple of caveats. First, as described above, I received back a database of garbage. It was completely unusable. I had to spend hours and hours to try to fix the data, and there was obviously a cost to me to find and fix all the errors.
Second, unless you want to pay for pages that don't have any data on them, you will have to spend a lot of time deleting pages from your statements. Bank and credit card statements often have multiple pages with no data on them (they have all sorts of legal information, disclaimers, privacy policies, or sometimes even blank pages). Every page processed costs you 40 cents, so unless you want to pay for useless pages, you better manually delete those pages before you send in your statements.
I asked the company about any changes in the software since I tried it a few months ago. I specifically asked about their process for capturing the data:
The way we process the data has not changed. We run OCR (optical character recognition) on uploaded files and use a reconciliation procedure to generate an accurate database of bank and credit card transactions. This way, our users don't have to worry about reconciling the data in order to ensure accuracy.
Over and over they tout 100% accuracy, when I have seen that the data they produce isn't even close to accurate. The main flaws in the software appear to remain uncorrected.
In theory, PerfectAudit is a great concept. The reality, however, is far from what they advertise. In my experience with the site, the data was inaccurate and incomplete, the database was difficult to work with, and the software simply didn't perform as promised.
What is the alternative to Perfect Audit? Some firms use software that converts PDFs to excel. I've found that software to be terrible. I've also used a horribly expensive and terribly terrible product called Comprehensive Financial Investigative Solution (CFIS or FIS) by Actionable Intelligence Technologies (AIT). While CFIS is better in the accuracy department, the company fails to live up to many of its promises and rarely meets deadlines. The software is cumbersome, adding hours and hours to process of reconciling and working with data.
I use a proprietary system to capture the data, put it into a custom database, and analyze it. I've found that off-the-shelf products like PerfectAudit are limiting because they focus on what they think is important, not what you know is important for your case. It is much better to create a system that works and provides the accuracy you require. Don't rely on a company that sells false hope, saying you'll have 100% accurate data, when you'll have nothing of the sort. Your clients, your cases, and your reputation are too important to take that risk.