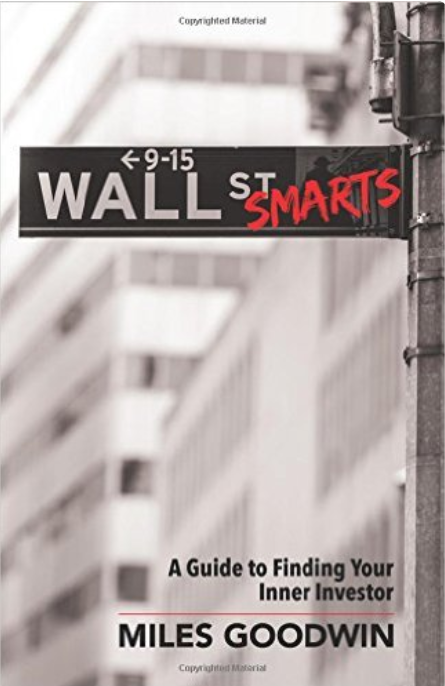 Wall Street Smarts: A Guide to Finding Your Inner Investor, by Miles Goodwin, is masterful compilation of the best investment advice for the average person. The book does the seemingly impossible by pulling together the best investment advice from the best books out there. Mr. Goodwin has done the hard work so you don't have to. He has taken decades of investment research and experience (as an average person just trying to manage his own money) and extracted the most relevant advice from some of the most knowledgeable authors. Added to this material is a wealth of information he has accumulated over the years.
Where does the average person begin when trying to learn about investments? There are lots of great articles and books out there, but how do you figure out which ones are relevant and accurate? And how do you find the time to read all of them? Simply put, most people can't. And that's why Wall Street Smarts is an invaluable tool for anyone who wants more control over their savings and investments.
The first chapter goes through a litany of important terms used in the investing world. These words can be vague and confusing, and Mr. Goodwin does an excellent job of explaining them briefly. While the book lacks an index, the important terms are featured in bold throughout the chapter so they are easy to find.
For a newbie to investing, Chapter 2 offers excellent basics about the stock market, cycles, and timing of the market. The book then moves into a discussion on investors, risk tolerance, and investment strategies. While not very technical, this information helps form the foundation for the rest of the material in the book.
Chapters 4 and 5 cover investment strategies, including both fundamental analysis and technical analysis. Pay close attention to the six main points for successfully using fundamental analysis as an investment strategy, which focuses on analyzing and investing in companies. Technical analysis, which is more focused on movements of stocks and the market, is presented well for the beginning investor.
With so much information out there, how can the average person possibly sift through it all to make intelligent investment decisions? Miles offers some great information on research and using stock screeners. This will help you filter out a lot of information and zero in toward your investment goals.
The book winds down with chapters on debt securities, mutual funds, and retirement savings.  These chapters are short, but they give excellent information for newer investors who need a baseline of knowledge about these topics.
Overall, Wall Street Smarts is a very thoughtful and thorough introduction to investing for those new to it. Miles has artfully combined some of the best investing material out there (both old and new) with the knowledge he has gained from managing his own investments for decades. By highlighting the best publications, he offers readers the opportunity to dig further into any of the topics by pointing them to those books.
I highly recommend this book for anyone who is interested in taking charge of their savings and investments Even if you still choose to have an investment professional officially manage your money, it is important to have basic knowledge about investments in order to be an active part of the process.