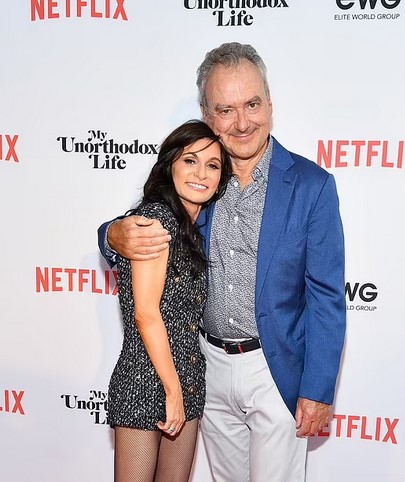 The same day Julia Haart, star of Netflix reality series "My Unorthodox Life," was accused of illegally withdrawing $850,000 from an account at Elite World Group, she filed for divorce from her husband Silvio Scaglia.
Haart was the CEO of Elite World Group, a company that is run by Scaglia. It's safe to say that the divorce and the corporate fighting was in the works for a while, and it all came to a head that day. While Haart was CEO of Elite, it is alleged that used the company as her own personal piggy bank. According to Page Six:
An Elite insider who knows Haart said, "Julia was spending on extras like travel, glam, clothes, driver. She has a full-time driver and two Bentleys. She has a Hamptons rental, she flies private, she stays at the penthouse at luxury hotels … She has custom Chanel and Gucci. She's one of the top spenders globally at Louis Vuitton."
Apparently, Haart was told that the board of directors was going to meet on February 11 to discuss firing her as CEO. She then withdrew $850,000 from the company's bank account and transferred it to Haart Dynasty LLC (a company she owns). The suit against Haart alleges that she only had the authority to withdraw up to $250,000.
Haart is accused of costing Elite millions of dollars due to her e1972 brand and other failures. Her luxurious lifestyle is to blame as well. Their home in Tribeca is reportedly worth $65 million. Haart's Instagram account flaunts her expensive travels and luxury goods. And allegedly much of this was done with Elite's money. In my line of work, we call this using corporate funds for personal purposes. You can bet through the process of this lawsuit and divorce, forensic accountants will be going through the spending line by line to quantify it.
Julia Haart is claiming that Elite is worth much more than before she started running it. When she took over, it was valued at $90 million, and she's alleging it is now worth $500 million. It will be interesting to see what the business valuation professionals have to say about that. Haart also says the bank account at the heart of the lawsuit is the same account Scaglia used to pay his divorce lawyers. So maybe they both had access to the funds to use for personal purposes?
This is going to be an interesting one for the forensic accountants!