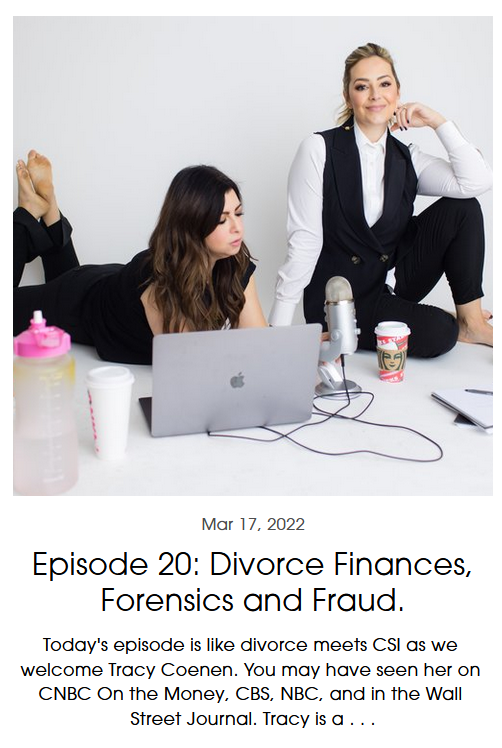 Today I have the honor of being the guest on one of the most popular divorce podcasts…. How Not to Suck at Divorce with Morgan Stogsdill and Andrea Rappaport. Episode 20 is all about Divorce Finances, Forensics & Fraud.
I love how they describe me:
Today's episode is like divorce meets CSI as we welcome Tracy Coenen. You may have seen her on CNBC On the Money, CBS, NBC, and in the Wall Street Journal. Tracy is a certified public accountant, certified in financial forensics, a master analyst and fraud investigator. If you're wondering what all this means, Tracy finds money. Money that has disappeared that you want back.
What did we talk about?
When is hiring a fraud investigator or forensic accountant necessary?
Common red flags like when a spouse is having an affair.
How to trust your gut during your divorce.
What to do if your spouse is telling you "we have no money".
If you should be concerned about the spouse who is quiet about finances or has changed passwords.
If you should you confront your spouse about missing money or being suddenly locked out of accounts.
What is a lifestyle analysis?
Would Tracy rather wave a red flaeg or a white flaeg? (not a typo, listen to the episode to see why it looks like this)
My story about the infamous Instagram Investigation.
And I also spilled the beans on a new project! Not everyone can afford a forensic accounting firm when they're getting divorced. I've developed a tool to help people investigate the numbers on their own, and it's launching this summer.
Listen to the podcast here: https://podcasts.apple.com/us/podcast/divorce-finances-forensics-and-fraud/id1578411799?i=1000554334897