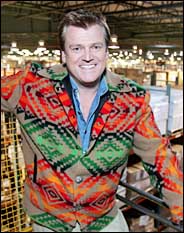 Last week in the Overstock.com (NASDAQ:OSTK) earnings conference call, the company's executives had the following to say about the SEC's investigation of the company:
Patrick Byrne

So, is it fair to say that all these other issues that the knuckleheads keep on raising as issues, the SEC examiners, looked at and sprinkled holy water on?

David Chidester

Yeah, I mean they took a deep dive they do that every three years or so. And again they are very good to work with. It is not adversarial at all and we've got all the issues resolved and it's nice to know that we could move forward.
Those statements by Patrick Byrne and David Chidester were a big no-no, for two main reasons.
False and Misleading: Chidester says above "…we've got all the issues resolved," making it seem as if the SEC is done investigating Overstock.com. Nothing could be further from the truth. The SEC is still actively investigating Overstock.com and Patrick Byrne. The SEC's Division of Corporate Finance conducts routine examinations of financial statements and disclosures. The SEC's Enforcement Division is the one that is still investigating Overstock and Byrne. Their investigation is not concluded, and they haven't finished investigating the company's accounting or possible violations of securities laws.
To say that "all these other issues" were looked at by the SEC and "resolved" is a completely false portrayal of the reality.
Additional Violation: What Overstock.com executives stated on the earnings call may actual be a further violation of SEC rules. Convicted felon and forensic accountant Sam Antar draws attention to this SEC policy (bold added by me):
Addition of "Tandy" language to all initial comments

The staff may ask companies to represent in writing that they will not use the SEC's comment process as a defense in any securities related litigation against them. This request is known as a "Tandy" letter. Since we will be making all comment letters and responses publicly available, either in response to a FOIA request or pursuant to this announcement, we will ask all companies whose filings are reviewed for such representation. This request and representation should not be construed as confirming that there is or is not, in fact, an inquiry or investigation or other matter involving the filer.
It's clear here that the SEC does not allow companies to use the closure of a matter as a defense to allegations against it. i.e. Just because the SEC closed an examination or investigation, does not mean that everything is fine at the company. It simply means that for whatever reason, the SEC is not pursuing that particular issue or issues.
Byrne and Chidester, by their comments in the earnings call, have made it appear as if the SEC is no longer looking into the company's financial matters and that the (fictional) closure of the investigation means that the SEC believes there are no problems at Overstock.com.
Sam also mentions the following in regard to this matter:
Therefore, Section 23 of the Securities Act of 1933 and Section 26 of the Securities Exchange Act of 1934 clearly prohibit any person from making certain representations concerning the effect of the SEC registration and review process. A company or its management cannot claim that, as a result of the comment process, the Commission is deemed to have:

1. found that any registration statement or financial report is true and accurate on its face;
2. found that any registration statement or financial report is not false and misleading;
3. found that any registration statement of financial report does not contain an untrue statement of fact or material omission; or
4. passed on the merits of, or given approval to, the security or the transaction
I have an idea. What if Patrick Byrne and his three ring circus spent their time running their horrible company and trying to turn a profit (something they've never been able to do in any year) instead of trying to play games with investors? Why spend all this time making false representations and trying to cover up other false representations with new false representations?