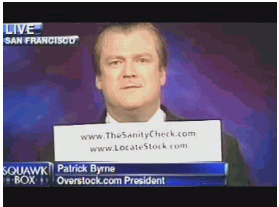 Today Patrick Byrne, CEO of the ever-flailing internet retailer Overstock.com (NASDAQ:OSTK) went on Fox Business to talk about naked short selling and conspiracy theories. And to whine about CNBC and the fact that he thinks people at CNBC take orders from Hedge funds: "They won't let me on to talk about it."
Byrne was asked the question on everyone's mind: Isn't the hammering of Overstock's stock price really related more to the fact that the company has never turned a profit, rather than the naked short selling conspiracy?
Patrick's response? Overstock has "….made money in some quarters."
Naturally, I had to check this out for myself. And in fact, teeny tiny profits were reported by Overstock.com in the quarters ended December 31, 2002 and December 31, 2004. That of course, assumes that you believe the company reports its financials accurately. But yes, two does equal "some," so Patrick is correct.
But what was really amusing to me is all the red ink. The company hasn't even come close to turning a profit in any year. And I took it upon myself to add up the company's losses from 2000 through June 30, 2008, and the result is hilarious. Almost $239 million in accumulated losses over that period, with over $125 million of the losses just in the last 8 quarters. Gosh, Patrick is really doing a fantastic job, isn't he?