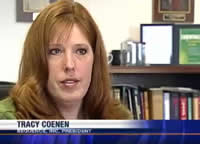 I've had plenty to say about the massive fraud Koss Corp has suffered at the hands of their Vice President of Finance, Sue Sachdeva.
In this news story from Milwaukee's ABC affiliate, WISN 12, I talk about how a company with annual revenue in the $40 million range can fall victim to a fraud loss of $31 million (current estimate, up from original estimate of $4.5 million and first revision of $20 million):
I've also been quoted by the Milwaukee Journal Sentinel, and the Milwaukee Business Journal. At Daily Finance, I have written about why executives everywhere should fear a situation like this and why the auditors from Grant Thornton aren't necessarily to blame. More of my comments are seen in this article on CFO.com: Fraud Case Feeds Sarbox-Exemption Critics.
Koss has hired Baker Tilly Virchow Krause as its new auditors, and this firm will not only do future audits, but will also audit any prior period financial statements that need to be restated.
As much as people would like audits to uncover fraud, that's not what they're designed to do. Financial statement audits rarely detect fraud because that's not what the auditors are hired to do. If companies want someone to detect fraud, then they need to hire forensic accountants specifically to perform tests aimed at detecting and preventing fraud. They simply can't rely on the auditors.
Some people say that auditors should change their work in order to detect more fraud. But that's not what they're engaged to do. They are engaged to audit. They are not engaged to detect fraud. The responsibility lies with the companies and their management, and they need to do something in addition to financial statement audits if they want to find fraud.
For a look at how Sachdeva spent the money she embezzled from Koss, check out this feature at Clusterstock.