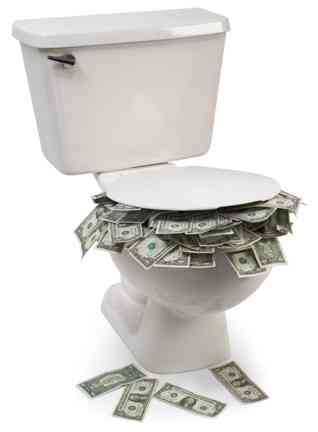 Every year we hear how Milwaukee Public Schools (MPS) has a budget problem. We're told they simply don't have enough money to operate the school system. That is an outright lie.
Every year they increase spending. Here is a breakdown of the budget and enrollment by year: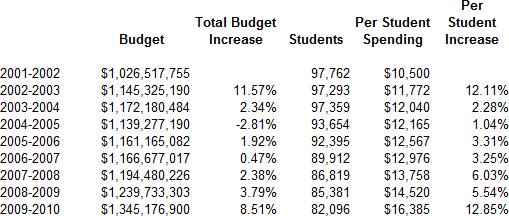 The 07-08 budget was $1.19 billion. The 08-09 budget was $1.24 billion. The 09-10 budget was $1.34 billion.
And it's worse if you look at spending per student. In 06-07, they spent  $12,976 per student. In 07-08 they spent $13,758 per student. In 08-09 they spent $14,520 per student. In 09-10, they spent $16,385 per student.
What do we get for all this spending? A huge number of children who can't read or do math.
I concede that some costs don't decrease even when the number of students decreases. So the costs to maintain the buildings and other fixed costs can stay high even when there are fewer students. (Although the people running the district should be doing something to plan for this type of situation!)
But the single biggest reason why it's become so expensive to run MPS is because of the employee costs. The average salary for an MPS teacher is $56,500, and the average benefits package is $43,505, for total average compensation of $100,005.
Let's leave the salary issue out of it for a minute. I believe the salaries for MPS teachers are too high, but let's ignore that for the sake of this discussion, and focus on the benefits. There is simply no way any business can survive with such a large benefits package!
The benefits package costs 77% of the salary. In the real world (read: private industry which is self-sustaining), benefits typically cost about 30% of wages. MPS has a benefits cost nearly 2.6 times higher than the real world.
For this school year, MPS is employing 5,766 teachers. That's a total cost of $577 million in wages and benefits. If the benefits package cost was reduced to the 30% level that the rest of the country receives, the cost would only be $424 million. Voila! $153 million of instant savings.
And here's one specific way that MPS can save on benefit costs: Force the employees to choose a more cost-effective health insurance option. In this Journal Sentinel story I've linked to, the writer cites the two health insurance options available to employees. They're both very good plans! One costs $23,820 per family, and the other costs $16,440 per family per year. That's a difference of $7,380.
MPS employees have zero incentive to choose the cheaper option, even though it is an excellent plan. So why not eliminate the choice and start saving money right away? The big spenders say that shifting everyone to the lower cost plan would cause the per-family cost of that plan to rise because of the way health insurance is priced. I don't dispute that could happen, but even if it does, there will still be a substantial savings to the district.
So here's the bottom line… MPS can cry all they want about not having enough money. The fact is that they're spending too much, and  the bulk of that spending is related to teacher costs which can and should be controlled. If the district is unwilling to stand up to the teachers' union, then everyone needs to shut up. I don't want to hear the whining about teachers losing their jobs or about class sizes being too large. With the current compensation structure, the only way to have any control over the budget is by reducing the number of teachers.
The teachers have made their choice.  It is the teachers alone who are causing budget problems, and they could force their union to solve this problem. They'd still have jobs with generous pay and very good benefits, and there would be money left over for all the things they want to do (but which have to be cut to meet teacher costs).