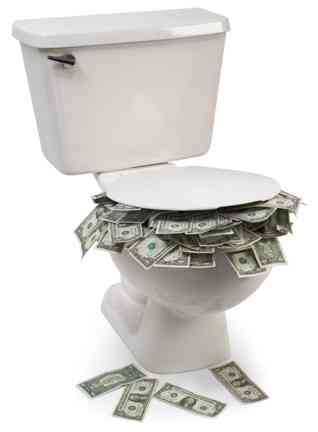 Yesterday it was reported that Milwaukee Public Schools is cutting 684 jobs, which includes 260 teachers. The reason? Out-of-control employee costs, thanks to the teachers' union.
The first thing you'll hear is how the district doesn't have money, and more tax money needs to be directed to MPS because it's for the children. But the problem is not that the district doesn't have enough money. I've reported several times on how the enrollment is declining while the budget keeps going up. The total budget gets increased year after year, and on a per student basis, the budget is skyrocketing. Witness: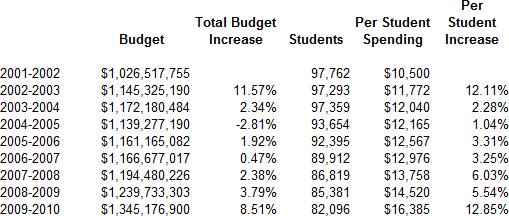 The problem with MPS is the employee costs. In March it was reported that the average MPS teacher salary is $56,500, with an average benefits package of $43,505,  for total average compensation of $100,005 per teacher. I'm not saying teaching isn't a tough job or that teachers aren't important. But I do think the compensation package in MPS is way too high.  Remember that this is a 9 month job, so if you annualized the pay and benefits, that equals an annual compensation package of over $133,000.
Enrollment is going to go down again, but the district still wants more than $1.3 billion for the school year. The newspaper reports:
Generally, staffing reductions each year follow projected reductions in the number of students in the district. MPS expects enrollment to decline by 2.1% next year, but staff cuts will be three times that much, or 6.4% of its workforce. The proposed budget cuts 260.5 teaching positions, or 4.5% of the teaching staff.
The district is asking for $1,314,279,423, which would be a slight decrease from the prior school year. But with enrollment expected to fall 2.1%, that still means the district wants to spend $16,352 per student. And they're telling us it's impossible to provide a good education for that amount of money???
The problem again goes back to compensation and benefits. MPS is reporting that for every $1.00 it spends on wages in 2010-2011, it will spend $0.74 on benefits. In the real world (read: private industry which is self-sustaining), benefits typically cost about 30% of wages. MPS has a benefits cost nearly 2.5 times higher than the real world.
The only way MPS can deal with such high compensation costs is by reducing the number of employees. It's simple math. (Not that I expect anyone in MPS to be able to do math.)
I'm sorry, but there are plenty of companies that offer very good benefits to their employees at a much lower cost than MPS offers them. It is time to face reality: We cannot afford the kind of pay and benefits demanded by the teacher's union.
The teachers cry that there are too many children in each classroom, yet the teachers themselves have created this situation.  It would be simple to start cutting benefit costs. One way would be to put the employees in a more cost-effective health insurance option. But the union won't allow it. By demanding such high pay and benefits, the teachers are effectively forcing the district to reduce the number of teachers.
MPS teachers could still have jobs with excellent pay and benefits if they were willing to be reasonable. They have the ability to force their union to work with the district to fix the budget problem. They simply won't do it.