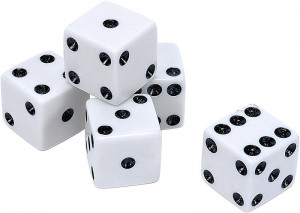 Recently, the $656 million prize offered in the Mega Millions lottery gave charlatans an opportunity to sell lottery players "secrets" to winning the lottery. One such guy was "author" Richard Lustig, who wrote the "book" "Learn How To Increase Your Chances of Winning The Lottery."
Lustig says he has figured out how to "increase your chance of winning" the lottery. He did a media tour to promote his book (more accurately, pamphlet) which tells these secrets. Lustig's "winning lottery method" was featured on programs such as ABC News and the Rachael Ray Show.
Sadly, CNN Money got in on the craze and aired a video featuring Lustig. That video was later removed from CNN's website after a firestorm of criticism. A CNN spokesperson said:
"The CNNMoney newsroom takes great pride in its journalism, with consistently high standards for reporting. This video fell short of that mark and we've chosen to remove it from our site."
Richard Lustig, and people like him, are lying if they're telling people you can beat the system. The only way to increase your chances of winning is by buying more lottery tickets. Any other scheme for selecting numbers will not increase your chances, period.
Lustig says you should believe him, and not the rational people who are telling you the truth about numbers, probability, and the lottery. Since he's supposedly won seven lottery grand prizes, he uses that as confirmation that his system works. But Felix Salmon at Reuters correctly points out:
Richard Lustig is a get-rich-quick hack with no idea at all of how to beat any lottery. Yes, he's won an impressive number of jackpots. But he also advises that one third of all your winnings should be "reinvested" into lottery tickets — which means that he's betting an enormous amount of money every week. He never gives any indication of what his ROI is; indeed, he never actually comes out and says that he's a net winner. Neither can I see any indication that all the money he's gambling is his own.
Tips For Winning the Lottery
But Richard Lustig's tips for winning the lottery are a scam. The bad "tips" provided by lottery hucksters often include:
Set a "lottery budget" each month and use it to buy multiple tickets for the same game.
Do not use the "quick pick." Select random numbers for better odds.
Play the same numbers every week.
Select sequential numbers.
Reinvest your winnings.
Play numbers that haven't been part of a winning combination in a long time.
All of these ideas are bogus because at the time of each drawing, the prior drawings have no bearing on the result.  Each lottery ticket has an equal chance of winning, and that's based on simple math, including probability theory. Bissonnette says:
"Unlike poker or blackjack, there's nothing you can do to gain an advantage at this. You can't make decisions to influence the outcome."
Paying the lottery is just like playing roulette: there is no skill involved. The lottery is completely random, and the likelihood that one set of numbers will be picked is exactly the same as any other set of numbers. It does not matter if a set of numbers has already won, because the lottery has no memory.
Favoring or avoiding certain numbers will not increase or decrease your chances of winning. It will only increase or decrease your chances of splitting the jackpot with other winners. Bissonnette agrees:
"I hesitate to even say this," Bissonette told Your Money, "but if you do buy lottery tickets, picking random numbers is the way to do it. (Picking your own numbers) means you're more likely to pick numbers someone else has, and then you'll be more likely to split."
There are no secret lottery numbers that will increase your chances of success, and there are no patterns that will increase your chance of winning. Simply put, there is no system that works because the lottery is completely random and your odds per ticket are always the same.
Unfortunately, there is only one way to increase your chances of winning the lottery: Buy more tickets. And that's just silly, especially since those buying lottery tickets are very often people who can't afford to waste money this way.