Several months ago I wrote an article on the Xyngular weight loss program being pimped by Jennifer McKinney (aka mommy blogger MckMama).  The bottom line for me was that these programs do not work because:
They create short-term weight loss through a dizzying cycle of starvation, unhealthy meal replacement shakes, and questionable drug-like "supplements" that are supposed to get you high and suppress your appetite
The representatives make repeated health claims are strictly prohibited by the federal government. The distributors claim that the products cure anything and everything from joint pain, to autism, to diabetes, and more.
Xyngular (and Herbalife, Medifast, Take Shape For Life, Visalus, Isagenix, and the rest of them) have poor long-term results because they are fad diets that rely on starvation and potentially unsafe substances. The vast majority who lose weight with these programs gain it all back.
For months, Jennifer McKinney has been boasting that she lost "80 pounds"!!! But the reality is entirely different. She did lose weight initially, but her weight went up and down like a yo-yo. She got as low as about 171 pounds, which *might* be evidenced with the picture on the left from March 2013: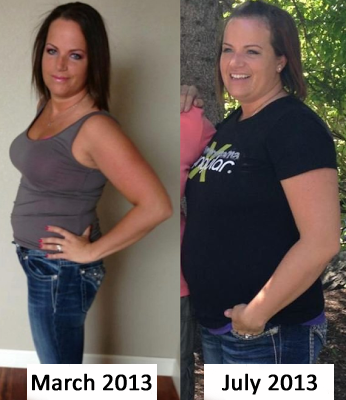 Unfortunately, it appears that the picture on the left was altered with Photoshop, while the picture on the right (July 2013) is unaltered.  Either Jennifer McKinney was never as "thin" as she claimed, or she has gained most of her weight back.
What does this tell us? It is proof positive that the Xyngular system does not work. It is a fad diet that helps with temporary weight loss, and then the users gain back all of their weight.
UPDATE: In May 2014, it is clear that Jennifer has gained back all of her weight, but she is still touting her big "weight loss" as she tries to recruit people into Xyngular. She rarely posts pictures of herself anymore, and when she does, she is hiding behind others to conceal the truth. Of course, she will never admit that she gained all her weight back and the products do not work long term.