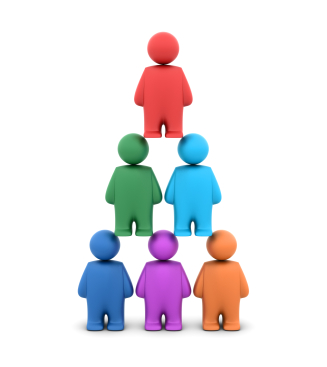 Multi-level marketing companies are getting lots of attention lately thanks to the Bill Ackman smackdown of Herbalife in December. MLMs offering "nutrition products" are of special interest to consumers, and with good reason. Companies like Isagenix, MonaVie , Usana, Mannatech, and Shaklee all offer magic potions that claim to help you lose weight, absorb more vitamins and minerals, and cure all diseases.
Of course, many of these health claims are strictly prohibited. Nutrition MLMs generally have disclaimers stating that their health claims have not been evaluated by the Food and Drug Administration, and that the products are not intended to diagnose, treat, cure or prevent any disease. But that doesn't stop the distributors for making such claims, and the company management turns a blind eye to it.
Jennifer McKinney – the blogger formerly known as MckMama (and the one who was accused of fraud on the United States Bankruptcy Court) – – has been pimping Xyngular for almost a year. Go Team MckMama!!!! She has been racking up new recruits like crazy, possibly due in part to the health claims she has made like this one: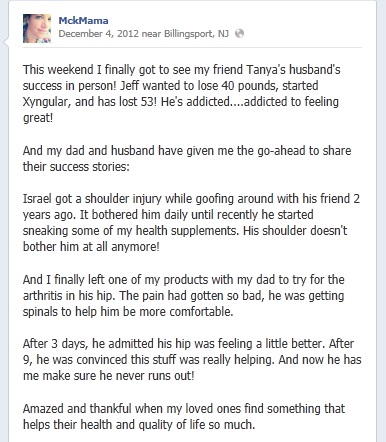 Do Xyngular products work?
You're probably asking yourself if the Xyngular products actually "cure" all kinds of diseases as participants on MckMama's Facbook page have claimed. I've seen claims that it has cured fybromyalgia, diabetes, chronic fatigue syndrome, migraines, joint pain, and more.
The short answer is NO.  Xyngular products do not cure these ailments, or any others. There have been no clinical studies to back up any of these claims. I don't doubt that some people may temporarily feel better when they try a new product. But I do not believe there is any scientific evidence to support the claims that Xyngular heals these illnesses.
Do the products help people lose weight? Yes. But the weight loss is done at the expense of your body. According to my research, the weight loss program promoted by Xyngular is very dangerous. And those who lose weight with it are unlikely to keep it off long term because it is a fad diet, and the results are achieved by starving yourself and taking potentially unsafe substances in the process.
Jennifer McKinney's Weight Loss
To show you just how ineffective the Xyngular weight loss program is, we have to look no further than Jennifer McKinney's weight loss journey. What you will see below will prove that Xyngular is a waste of money. A lot of money.
Here is the short version of the story: (keep reading below for all the gory details)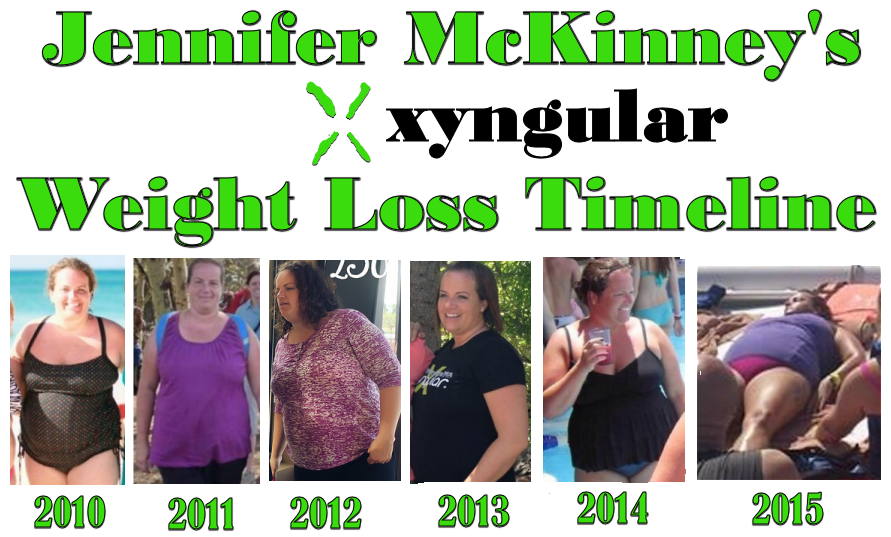 MckMama claims to have started working out in December 2011, with her weight at 238.  She allegedly lost 20 to 25 pounds, and she documented that loss on her blog and Facebook page.
(Special thanks to my dear friend Snort, who put together the numbers in the next three charts!)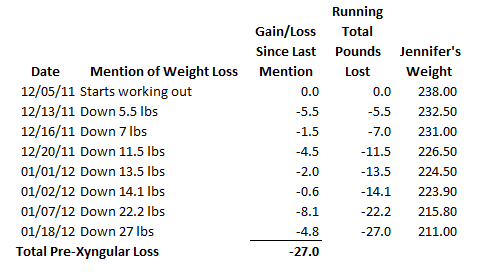 MckMama lost this weight the way that doctors recommend losing weight: With diet and exercise.  So in about 6 weeks, she lost 27 pounds, or 4.5 pounds per week.
Jennifer McKinney started using Xyngular in January 2012, just a little over a year ago.  Her level of exercise dropped significantly after starting Xyngular, as she was relying on the pills and potions to lose the weight. Her Xyng weight loss went like this: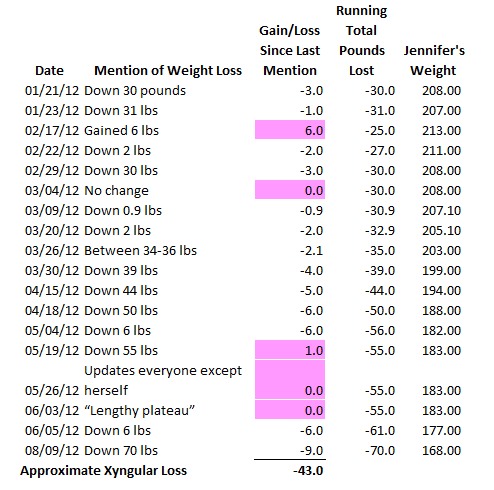 According to her Facebook posts, Jennifer got down to her lowest weight in July or August, around 171 pounds (or possibly 168 pounds, depending on which Facebook posts you believe). In 29 weeks with Xyngular, she lost about 43 pounds, or 1.5 pounds per week.
So with exercise and sensible eating, Jennifer lost 4.5 pounds per week. With starvation and drugs (which we'll discuss below), she lost 1.5 pounds per week.
And lest you should think that her weight loss slowed because it is harder to lose once you get thinner… you should understand that even at 168 or 171 pounds, Jennifer was still overweight for her height, which is 5'6″. We're not talking about someone having difficulty losing the last few pounds. She would have to get to at least 150 pounds to be on the upper end of the "normal range."
And what has happened since August? MckMama has gained about 35 pounds and lost about 27 pounds. Of course, she only gave numbers for her losses, and rarely mentioned her gains.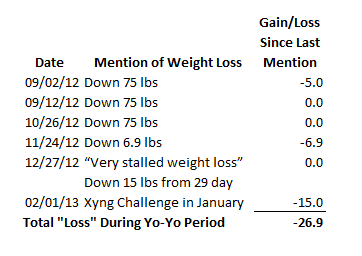 Bouncing around between 169 pounds and 189 pounds for the last six months is not healthy. Xyngular is clearly the mother of all yo-yo diets. Or is that the MckMama of all yo-yo diets???
Further more, the 43 pounds that MckMama lost via the Xyngular products (and then gained, and lost, and gained, and lost….)  has come at a price, both to her pocketbook and her health.
Are the Xyngular products healthy and safe?
The Xyng products are marketed as "all natural," but what does that mean? MckMama has been repeatedly doing the 8-day Ignite Fat Burning System. What Xyngular is selling you is an extremely low calorie diet, supplemented with products that are arguably dangerous.
Here are the concerns that I have with the "8 day challenge" that McKinney so often promotes:
Every morning starts with a Xyng pill which has an ingredient called geranium root, which is DMAA (a substance with questionable safety), according to this document. Xyng also contains beta phenylethylamine HCL, a substance with effects similar to amphetamine, an upper.
You only eat three meals during the entire eight day program. No, that's not an error. Three out of the eight days are called "eating days," and on those days, you get to have one meal of 500 to 600 calories. The other five days, you have no meals.
Essentially, the only thing you are allowed to eat besides those three meals is protein. You're allowed 4-6 ounces twice a day, but that's it.
Instead of meals, you will be having meal replacement shakes, some overpriced fruit juice, a bunch of laxatives (called "Flush"), and some silly "Cheat" sprinkles that claim to prevent your body from absorbing fat.
And what about the low calorie part of the plan? Lowering calories is good. Lowering calories too much is bad. Lowering calories to an extreme, and without a doctor's supervision is downright dangerous.
Consuming less than 1,000 calories per day is considered a starvation diet. That's why such diets are meant to be used only in extreme cases, and only under the active monitoring of a doctor.
I've added up the calories on the Ignite program, and on the non-eating days, you'll be getting 500 to 800 calories. On the eating days, you'll be getting 900 to 1,300 calories. You will be starving yourself constantly during the 8 day program.
You should research neutral sources on extremely low calorie diets. Remember, your Xyngular distributor will tell you this diet is fine. Why? Because they are trying to sell you something. These neutral sources have nothing to sell you. They are simply providing information that is generally accepted in the medical community. WebMD says that a very low calorie diet will enable you to lose weight, but should be done under medical supervision and may have side effects if done too long. And once you go off the very low calorie diet, you're likely to gain the weight back.
Starve, supplement, repeat? Yes!

Could it get any worse? Yes. It is worse if the program helps you take off pounds, and then you gain them right back. Or if you have to keep doing the program over and over to sustain your weight loss.
We saw above that MckMama lost much less weight with the Xyngular system than with a simple plan for healthy eating and exercise. And we saw that for the last six months, her weight has been going up and down.
What's the answer to this problem??? MORE XYNG!
In the last year, Jennifer Howe Sauls McKinney  has done at least ten of the 8 day challenges, according to her Facebook postings. That is 80 days of active starving and supplementing over the last year. Wow!
How much do Xyngular products cost?
The 8 day challenge with the Ignite system costs $250 wholesale, and $340 retail. If you move up to the 29-day Xyngular Body Transformation program that Jennifer did more recently, it is $490 wholesale, and $680 retail.
I know MckMama has justified the cost by saying that she spends less on groceries. I don't know about you, but I don't eat $500 to $700 of groceries myself per month. And I'm sure not going to pay that much for a starvation program that uses stimulants and hocus pocus to (supposedly) burn fat.
(FYI – This is how Jennifer McKinney is getting so many people to sign up as distributors. It's cheaper to sign up – – $20 or $5 "membership fee" – – and pay wholesale for your pack than it is to buy the pack at retail.)
What about the Xyngular business opportunity?
What's the real reason Jennifer McKinney is pushing Xyngular so hard? Because she makes money off every mark that she sucks into this scam. Again, we have seen clearly that Xyngular doesn't work for her, but she has a vested interest in making is appear that it works. And look at her lifestyle people!!! Don't you want that????
No, you don't.
The Xyngular business opportunity is worthless. It is a typical multi-level marketing (MLM) program. Some people call it direct sales, network marketing, or referral marketing. It is all the same, and it is all a bad deal for almost everyone.
The first thing you need to know is that more than 99% of people who participate in multi-level marketing lose money.  MLM recruiters will tell you differently. They will tell you they know all sorts of people making a living doing it. They will say they know people getting rich from it. They are telling you lies to recruit you. Over and over, the research shows that almost everyone loses money in MLM.
Is MckMama making money with Xyngular? Yes. Are you going to be able to replicate that? Almost certainly not.
Jennifer McKinney has been "successful" with selling the Xyngular business opportunity because she already had a huge audience from her days of blogging. She sold the sizzle. She made her weight loss look easy, and made her lifestyle appealing to others. She made false medical claims in violation of company rules, but the assertions were compelling to those who had illnesses.
The wide reach she started with gave her a giant pool of potential victims. With thousands of blog readers, only a small fraction have to buy once or twice to elevate her to the "executive" ranks of Xyngular.
But almost everyone will fail, and any success by her recruits will not be correlated to their level of effort. (i.e. You can work incredibly hard in multi-level marketing and never come close to turning a profit because it is a game that is rigged against you.)
Most people are going to sign up, buy products once or twice, and then quit because they:
Get hip to this yo-yo diet nonsense
Realize the products are overpriced
Understand how dangerous the products and programs are
Find that most normal people aren't going to pay this kind of money for such junk, and therefore they can't recruit and "build the business"
We call this process churn and burn. Get a bunch of people to sign up, quickly sell them as many products you can, know that they will quit, and find new victims to sign up, quickly sell them products, and on and on and on.
Most importantly, remember this: In order to "earn" this money and the trips and other perks, you will sell your soul to the devil. You will be required to constantly recruit new people into this scheme by telling them about all the money they will earn, knowing in your heart that they have almost no chance of making that money. They will spend hundreds or thousands of dollars on products and will never turn a profit. They probably won't even keep the weight off.  This is not a business, people. This is a pyramid scheme.
Oh, I know I will be called a dream stealer. I am negative! I don't want you to succeed! What do you have to lose???? (Uh…. your money and your health!)
I am not stealing dreams. I am saving you time and money. Let the millions who went before you and lost billions of dollars to multi-level marketing schemes be your guide. Learn from their mistakes.
You have a better chance of turning a profit at a craps table or roulette wheel in Las Vegas than you do by becoming a Xyngular distributor (or any MLM, for that matter). I have no personal interest in whether or not you sign up. I do not profit whether you sign up or you decline.
I simply want you to understand that there is a 99% chance you will lose all the money you "invest" in this business. If you want to lose money, go throw some hundred dollar bills in a bonfire and enjoy the show. Don't give your money to a liar who is pushing dangerous products on you (and her children, incidentally).