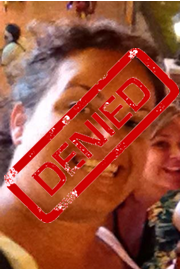 Great news out of the United States Bankruptcy Court in Minnesota, where Jennifer McKinney (blogger MckMama) and Israel McKinney filed for bankruptcy nearly a year ago. After trustee Gene Doeling ferreted out Jennifer's financial shenanigans, he filed a complaint with the bankruptcy court objecting to the discharge of the debts. Mr. Doeling alleged that the McKinneys engaged in manipulation, destruction, concealment, and falsification of information in the bankruptcy process.
Yesterday a signed Application for Approval of Waiver of Discharge was filed with the court. This means that Jennifer and Israel McKinney have agreed that their debts should not be discharged in bankruptcy.
Now don't fool yourself into thinking that this was some benevolent or truly voluntary act on the part of the McKinneys. (I'm talking to you, Sheeple!)  What this means is that Gene Doeling had the goods on Jennifer and Israel, and their bankruptcy was almost certainly going to be denied anyway. By signing this waiver of discharge, MckMama and Israel simply get the pain over with immediately and save themselves a bunch of attorneys fees that they would have incurred to fight Mr. Doeling.
For those uninitiated, this post details many of the financial untruths that Jennifer told to the bankruptcy court (as well as her loyal blog readers).
What happens now?
The debts are not discharged via bankruptcy
The McKinneys will have to pay their creditors
Assets that are not exempt (including the ones that the McKinneys claimed as exempt but Mr. Doeling objected to on various grounds) will likely be taken and sold, with the proceeds going to creditors
The case Mr. Doeling filed objecting to the discharge may be dismissed if it is deemed unnecessary (but as of now the case is still open)
None of the debts included in the bankruptcy filing can ever be discharged in bankruptcy
The McKinneys cannot file bankruptcy again for one year after this waiver is approved by the court (and again, even if they file bankruptcy in the future, the debts in this case cannot be discharged)
Let the season of repaying the creditors begin! The creditors can and should garnish Israel's wages, garnish Jennifer's 1099 income from Xyngular. The creditors should also swipe money out of any and all bank accounts the McKinneys have.
My sincerest thanks to Gene Doeling for his diligent work on this case. Jennifer McKinney was so sure she was going to ditch out of her $725,000 of debt by pretending to be poor and otherwise concealing assets and income from the bankruptcy court. I cannot thank you enough, Mr. Doeling, for doing such a wonderful job holding the McKinneys accountable for their actions.