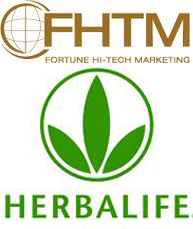 With yesterday's shutdown of Fortune Hi Tech Marketing, consumers have been asking if Herbalife is a similar operation. Last year Herbalife's business model was called into question by David Einhorn, and then the company was accused of being a pyramid scheme by Bill Ackman.
Naturally, Herbalife denied being a pyramid scheme. Management has repeatedly said that Herbalife is all about selling products, and that the products are indeed selling, so it couldn't possibly be a pyramid scheme. But according to this (start at 2:00 mark), no one really knows how much product is being sold to actual consumers. To be clear: Herbalife does not track retail sales.
I previously compared Herbalife and BurnLounge, a company shut down by FTC because it was a pyramid scheme. (BurnLounge is currently appealing, but that is a story for another day.) Today we compare Herbalife and FHTM:
I leave you to decide whether or not Herbalife and Fortune Hi Tech Marketing are similar. Remember that the FTC said the following about FHTM:
According to the complaint, recruits were told they could earn high commissions by selling products to people outside the operation, but instead only minimal compensation was paid for sales to non-participants, and few products were ever sold to anyone other than participants.  The scheme provided much larger rewards for recruiting people than for selling products, and more than 85 percent of the money consumers made was for recruitment.
I contend that this paragraph describes nearly all MLMs. While most multilevel marketing companies have products that appear to be legitimate and appear to be possible to retail for a profit, the reality is that the products are simply the bait to get people into the recruiting scheme, and almost no one makes a profit from retailing products.
Supplementary Materials:
Complaint against Fortune Hi Tech Marketing
FHTM Temporary Restraining Order