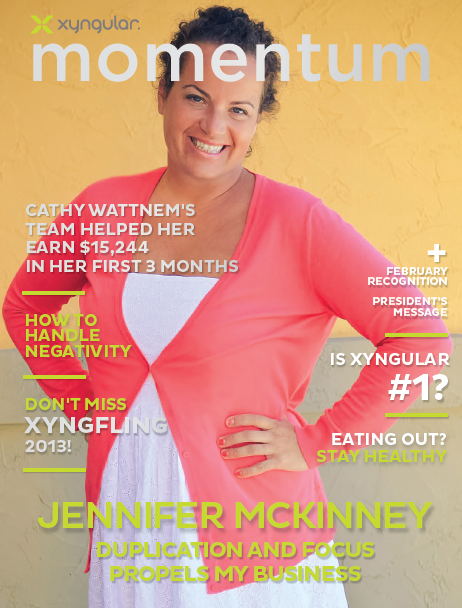 Jennifer McKinney – – former mommy blogger nicknamed MckMama – – has good news for the many creditors that she owes hundreds of thousands of dollars…. SHE CAN PAY THEM! This month's issue of Xyngular's Momentum magazine featured Jennifer Howe Sauls McKinney on the cover.
Publications like this are purely recruiting tools. While 99% of people participating in multi-level marketing will lose money, there are a few at the top of the pyramid who will make big money (only because many below them are losing money). Companies like Xyngular parade around the big winners, hoping to continuously recruit new victims into their schemes.
This month's issue of Momentum has a feature article on Jennifer McKinney, touting her earnings generated by "Team MckMama." The best thing about this article is that it proves Jennifer and Israel McKinney can pay the creditors they tried to stiff out of hundreds of thousands of dollars.
In late 2011, the McKinneys filed for bankruptcy, listing debts of more than $725,000. While the McKinneys claimed their 2011 income was $55,000, bankruptcy trustee Gene Doeling uncovered nearly $150,000 of income for 2011. (And the total was likely even higher, as it is probably that Mr. Doeling did not unearth all the dirt on MckMama.)
This, along with lies about future income and about assets sold prior to the bankruptcy filing, led Mr. Doeling to file an objection to the discharge of bankruptcy. The trustee alleged:
The Debtors have concealed, destroyed, mutilated, falsified, or failed to keep or preserve any recorded information, including books, documents, records, and papers, from which the debtors' financial condition or business transactions might be ascertained. The debtors failed to keep adequate books and records from which their financial transactions could be ascertained. The co-debtor was receiving cash payments from photography clients that were not disclosed and for which she has been unable to provide an accounting.
It appears that the trusteee believed Jennifer McKinney had attempted to defraud her creditors.  The bankruptcy was ultimately dismissed (with no debts being wiped out) and the objection was settled with the McKinneys paying a nominal sum of money to the bankruptcy court.
The creditors may have thought they could never collect their money. But Momentum magazine proves them wrong! In the feature article on MckMama, she touted her $34,000 earnings in one month:


What does this mean for the creditors? They can garnish this income if they take the proper legal steps. That's right folks…. with the right paperwork, the creditors can get their money directly from Xyngular before it ever gets into Jennifer McKinney's man hands!
But time is of the essence. This level of earnings doesn't often last in multi-level marketing. To keep it up, Jennifer needs to constantly recruit new victims who are willing to pump hundreds or thousands of dollars into Xyngular in the hopes that they will make it big too.
I suggest that the Xyng charade cannot go on long for Team MckMama. Numbers don't lie, but Jennifer McKinney does. She is recruiting people with the claim that she has LOST LOTS OF WEIGHT WITH XYNG. Check out this Team MckMama exposé, in which you can see that Jennifer lost 4.5 pounds per week with traditional diet and exercise, and only 1.5 pounds per week with Xyngular. Also, since Xyngular relies on starvation and drugs to create weight loss, it's one of those fad diets with which the weight doesn't stay off.  She has been on the weight loss yo-yo for months, gaining about 35 pounds since August.
The weight loss from Xyng is unsustainable, as is Jennifer's income from this scheme. I suggest the creditors act quickly to get their share of her earnings. God knows that Jennifer doesn't intend to pay her creditors the old fashioned way (i.e. voluntarily), and this Xyngular income of $34,000 per month may be the only way to collect the money they're owed.