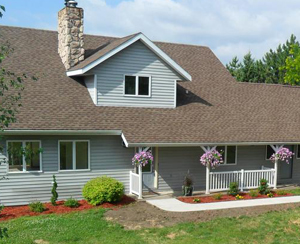 Recently, watchers of the MckMama train wreck were treated to the news that blogger Jennifer McKinney has bought a home. This lovely home in West Salem, Wisconsin, was most recently on the market at $289,900.
Jennifer "MckMama" McKinney bought the home under a contract for deed arrangement, also called a land contract. She paid $282,500 with $20,000 up front and the balance to be paid monthly with annual interest at 6.95%. The contract matures on April 15, 2013, which means she must pay in full at that time or lose her downpayment and lose the house. That can be done with cash on hand or some other form of financing, like a bank loan. If they buyer defaults on the land contract, the property typically reverts to the seller and the buyer loses all money previously paid.
Readers have questions about what this purchase means since Jennifer and Israel McKinney are currently in the middle of a Chapter 7 bankruptcy proceeding. A home purchase does not affect the bankruptcy proceeding.
Typically, those in Chapter 7 or recently out of Chapter 7 aren't able to get financing anywhere. In this case, the owners of the property, Dale and Lisa Arndt, obviously did no research on Jennifer McKinney before extending her credit. If they had, they would have discovered the many foreclosed homes in the last few years, how the McKinneys trashed a recent rental property and screwed the landlord, and how the McKinneys have screwed many people and companies out of many hundreds of thousands of dollars they owe thanks to family spending sprees, and then proceeded to lie to the bankruptcy court in an attempt to defraud those same creditors through the bankruptcy process.
If the McKinneys were in Chapter 13 bankruptcy, they could not buy a house without the approval of the bankruptcy court. Chapter 13 resolves debt with a payment plan, and with creditors getting part or all of the money they are owed. Because the McKinneys are in Chapter 7, there are no limitations on them purchasing anything now.
I have speculated that the McKinneys will not have their debts discharged in bankruptcy, as trustee Gene Doeling has been doing a fine job of uncovering their fraud. If he has anything to say about it, Jennifer and Israel McKinney will be saddled with their debts forever. So while the McKinneys are free to spend all of their money right now, they do it with the knowledge that they have hundreds of thousands of dollars of debt that will not go away through bankruptcy, and which they will be responsible to pay.
What's the debt tally including the new house? The original bankruptcy filing showed liabilities of $725,483. If you subtract the value of the house (with the hope that the bank can sell it for enough to satisfy the McKinney mortgage), that would leave approximately $279,000 in credit card debts, medical debts from Jennifer's great RV hospital tour of 2011, unpaid federal taxes, and other miscellaneous debts. To that we add the claim for $50,000 of unpaid wages made by Israel McKinney's former employee Lee Youngman (with the hope that he can prove it and will prevail in court). Interest has likely been accumulating on all of these debts, so we could safely add another $25,000 (probably even more) for accrued interest. And then we add the new house at $290,000.
That brings us to a grand total of $644,000 owed to creditors, assuming the best case scenario and the McKinneys end up owing nothing on the last foreclosed house. If the bank short sells it, however, the McKinneys could owe the difference between the mortgage balance and the sales price of the home. This $644,000 only includes the KNOWN debts. There are likely additional debts that Jenny and Israel have incurred in 2012.
Wow. It's apparently good to be MckMama. Not a care in the world. Running up hundreds of thousands of dollars of debt on top of the hundreds of thousands of dollars already owed (which, if not discharged in this bankruptcy, will never, ever be discharged in bankruptcy).
Hawking dangerous Xyngular diet pills (a combination of a starvation diet, high levels of caffeine and appetite suppressants, and dangerous DMAA), via a product-based pyramid scheme, which like all other MLMs, is designed to guarantee that 99% of the participants will lose money. The once-popular My Charming Kids blog has turned into a space simply to advertise Xyngular products over and over, and dupe people into signing up for the scheme. Jennifer rakes in more money, but spends it even faster. What a life!
If you're interested in learning more about the evils of multi-level marketing schemes like Xyngular, start here. All MLMs are essentially the same, so you can just change the company name as you read.