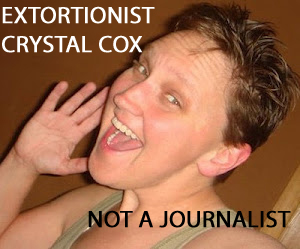 Last week Marc Randazza, his wife Jennifer, and his daughter Natalia filed suit against "investigative blogger" Crystal Cox in United States District Court in Nevada. The suit is a treasure trove of tales about a nutty blogger who fancies herself an investigator and protector of civil rights.
The backstory has been covered here before. Crystal gained her nutty notoriety because of her attacks on Kevin Padrick and Obsidian Finance. In steps Marc Randazza, noted First Amendment lawyer, who considered representing Cox in that case. After that went south, Crystal Cox started buying domain names which included the names of Randazza, his wife, and their three-year-old daughter. She  offered Randazza "reputation management services," whereby she would refrain from posting defamatory things about him on her websites if Randazza paid her enough. That, my friends, is extortion.
The complaint summarizes:
Dozens of other individuals have fallen victim to Cox's bizarre pattern of online harassment. Ms. Cox identifies her victims, registers multiple domain names using their full names, and baselessly accuses them of a variety of wrongdoings. She informs her victims that she will not cease her false attacks unless they agree to purchase her "reputation management" services. If they do not purchase those extortionate services, she escalates her baseless accusations against them.
Sadly, a $2.5 million jury verdict against Cox for those online activities hasn't seemed to deter her. In fact, it appears to have emboldened her.
First she started her extortion plot against Randazza, asking him to pay her a large sum of money, and posting defamatory content on marcrandazza.com when he refused. Cox then registered at least 31 more domain names with all or part of the names of plaintiffs. Defamatory content was added to those websites in an attempt to damage Randazza's reputation and mislead those who might be using a search engine to find Marc Randazza.
Crystal Cox's pricetag to stop the Randazza madness? $5 million. And she told the public that she'd keep registering domain names related to Randazza's name unless a court stopped her from doing so.
Marc Randazza and his family have sued to stop Cox from cybersquatting via domain names that include Randazza's name. And they have nicely outlined some of the interesting tactics Cox has used to terrorize them and others:
As Cox targets many other individuals with her extortion scheme, the intent to profit is clear. Cox, on information and belief, when targeting other individuals, shows them what she is doing to [Randazza] and his family and uses this as a basis to extract or attempt to extract extortion fees from other third parties.
Randazza also says that Cox tried to stop him from testifying in a deposition related to one of the lawsuits against Cox.
And Crystal Cox says she owns "a few hundred" domain names related to the Randazza name. Interesting, isn't it, that she can't pay the $2.5 million judgment against her in the Obsidian Finance case, but she can pay to register all these domain names?
The Randazzas seek:
a permanent injunction prohibiting Crystal Cox and co-conspirator Eliot Bernstein (and anyone else they might suck in) from using the infringing domain names or creating new infringing domain names
an order directing GoDaddy (or any other registrar) to turn over to them all domain names containing Randazza
an order directing Blogger to transfer all Randazza blogs to them
damages sustained
damages of $100,000 per domain name
court costs and attorneys' fees
punitive damages
Marc Randazza has filed for a temporary restraining order against investigative blogger Crystal Cox, seeking to prohibit Cox and Bernstein from using the Randazza names, trademarks and domain names.
Of course, Crystal Cox filed an objection in her "Pro Se Capacity" as she always does. Notice also that Cox is now "a Media Defendant" and "protecting the Public at Large." Cox tells the court that it can't possibly issue an injuction because "there is massive information that needs to come out." OH NOES!!!!
Crystal says the arbitration decision in favor of Marc Randazza is Fraudulent. (Yes, with a capital F.) And Cox is "filing a legal action out of Switzerland." I can't wait to see how that turns out. After all, Crystal has been so effective at representing herself thus far in the U.S. legal system. Surely she'll do just as well in Switzerland. And let's not forget that Marc Randazza has "Committed a Hate Crime" (yes, all capitals left intact) against Cox. And he has "Mafia ties" too!
This should be fun to watch.