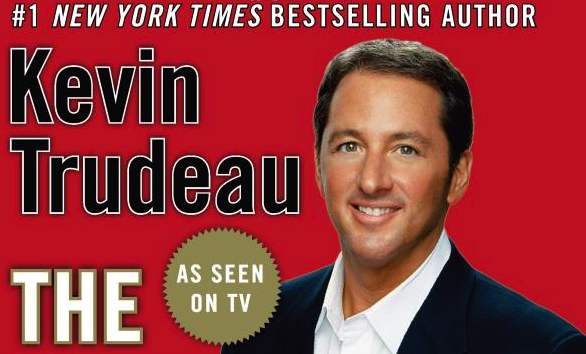 Habitual criminal Kevin Trudeau is ending up exactly where he belongs…. in prison! Trudeau has a lengthy history of legal problems. He spent 2 years in prison in the 1990s for credit card fraud. In 1996 he settled charges that he was operating an illegal pyramid scheme called Nutrition for Life. In 1998, Trudeau was fined $500,000 for making false claims in infomercials.
Then came Trudeau's book The Weight Loss Cure 'They' Don't Want You to Know About. The problem was that he misled consumers with his infomercials, making them think his weight loss book would show them an easy weight loss method which allowed them to eat whatever they wanted when they were done. But the diet was not simple. It required colonics performed by a licensed practitioner and injection of a human growth hormone, and it never really ended. Dieters really couldn't eat whatever they wanted, because the book said they should only eat organic food and avoid brand name foods, fast food, and meals at chain restaurants.
Eventually, a judge banned Trudeau from appearing in infomercials for any product in which he had an interest for three years. He was also ordered to pay a judgment of more than $37 million (the amount believed to be Trudeau's royalties from his weight loss book). Trudeau never paid the $37 million, and claimed he didn't have the money! S the government pursued Trudeau for the $37 million and detailed how Trudeau hid and moved his assets in order to avoid paying the judgment. Instead of paying, he was busy putting assets into his wife's name, spending large sums of money (which he claimed were business expenses), and setting up an offshore trust to hold his assets.
Finally… the book has been thrown at Kevin Trudeau. Yesterday a judge sentenced Trudeau to 10 years in prison for repeatedly violating court orders to pay the $37 million. The government demonstrated how Trudeau has been living despite saying he has no money to pay the $37 million penalty. Over a period of about 3 years, Trudeau spent at least $12 million on first class airfare, gym memberships, salon visits, jewelry, a Bentley, and a mansion. He has been in jail for the last four months, and unsurprisingly, claimed poverty once again and told the sentencing judge that he is very, very sorry and is taking fully responsibility.
Good riddance to a charlatan who made many millions of dollars by lying to unsuspecting consumers.