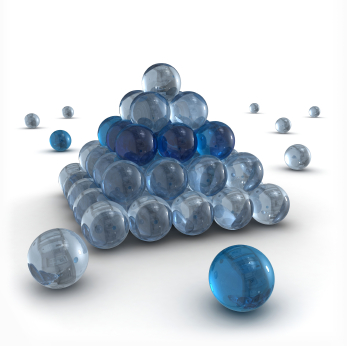 I have researched multi-level marketing companies for nearly a decade. During that time, I came to the conclusion that the vast majority of participants fail. What does that mean? 99% or more lose money. Since the participants are largely getting in because of the "business opportunity" to "earn unlimited income" and find "financial freedom," failing to turn a profit is indeed a failure.
A few weeks ago, a wonderful article on Herbalife was published on Seeking Alpha. It started out by discussing hedge fund manager John Hempton's blind (and incorrect) defense of the Herbalife business model. In essence, he claims that since meal replacement shakes are sold, this is a legitimate business opportunity.
This is the defense that every MLM company uses. "We have a product. People buy it. Therefore we are not a pyramid scheme."
Sadly, the product is merely the "front" for the scam. The product is required to make the "opportunity" look legitimate. It is plausible to the average consumer. Buy a product for X, sell it for more than X, and you have made a profit! What the MLM companies won't tell you is that very little retailing to third party customers happen. Distributors purchase large amounts of product, mostly for personal consumption or to meet minimums required to qualify for commissions. But sales to actual third party customers are low, and that is why most participants lose money.
The best part of the Seeking Alpha article was this graphic (click to enlarge):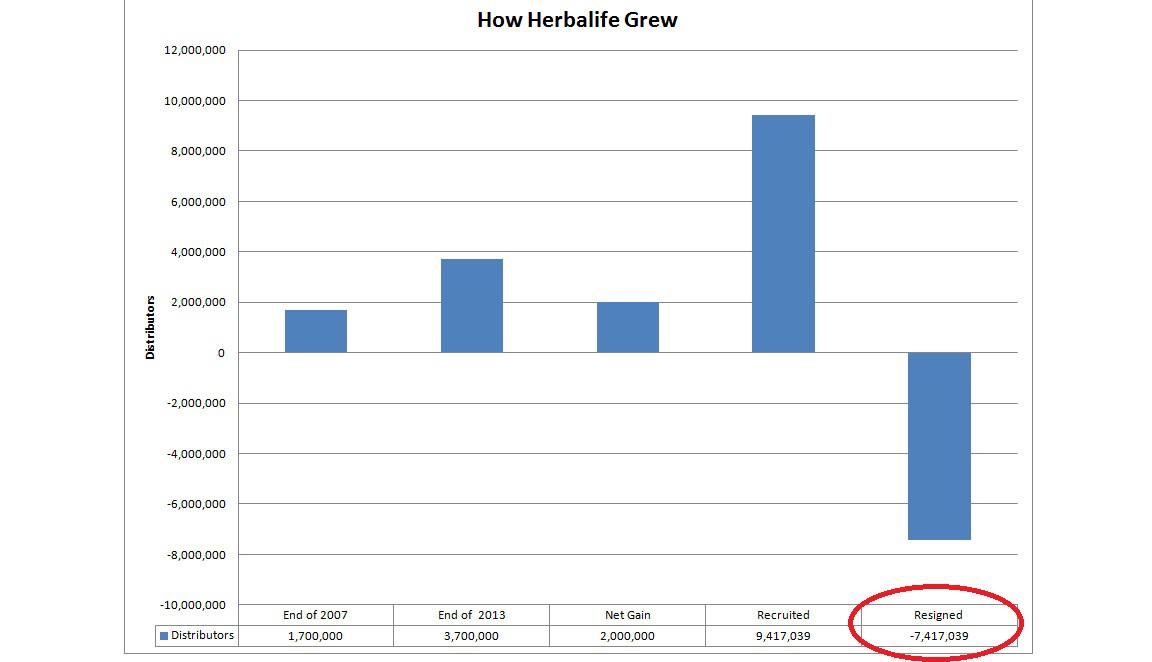 According to this graphic, between 2007 and 2014, Herbalife recruited 9.4 million distributors. That sounds great…. until you consider that 7.4 distributors quit during that same time period.
Why do you suppose those people quit? Was it because they were successful? Was it because they were making money? Or was it because they were losing money and realized that this "business opportunity" is worthless?
Multi-level marketing companies never talk about their churn rates, because they tell the truth about these scams. During this period, Herbalife had:
11.1 million people participating (1.7 million at the end of 2007 plus 9.4 million recruited)
7.4 million people quit
66.7% of participants quitting (7.4 million divided by 11.1 million)
Of course, MLM defenders will cite failure rates among typical small business owners. The most common statistic I see is that 80% of small business owners fail… except that statistic is fictitious. There is no substance to it. It is completely made up, but often quoted.
The truth is that failure rates in MLM are much higher than in normal businesses. Why? Because of the futility of it all. MLMs are legalized scams in which almost everyone will fail. It's only a matter of time before the distributors give up. It is not because they didn't try hard enough, or do the right things, or stay in the "business" long enough. They are almost guaranteed to lose money, and eventually they quit.
This, my friends, is the essence of why Herbalife (and every single MLM) sucks.