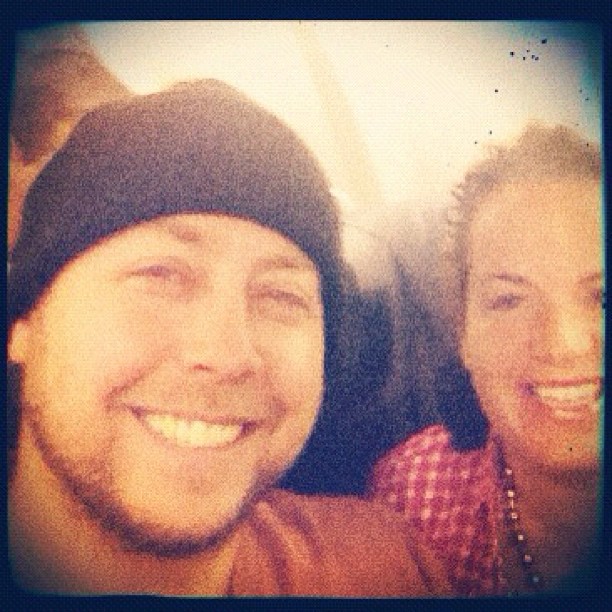 Readers of the Fraud Files are familiar with the story of Jennifer McKinney – – mommy blogger who calls herself MckMama – – who is prone to lies and exaggerations. She and her husband Israel were accused of  lying to and manipulating readers for financial gain. What began as a touching story of a family with a very sick child turned into a long-running gravy train, from which Jennifer and Israel McKinney profited handsomely.
But making hundreds of thousands of dollars from gullible sheeple reading a blog wasn't enough for the McKinneys. No, they had to run up over $725,000 of debts and attempt to have them discharged in bankruptcy. Fortunately, bankruptcy trustee Gene Doeling caught on quickly, and accused them of attempting to defraud their creditors by failing to report tens of thousands of dollars of income per year.
So it should come as no surprise to readers that the recent house fire at the home inhabited by (but not owned by) the McKinneys looks suspicious. You see, Jennifer Howe Sauls McKinney entered into a land contract with the owners, putting down $20,000 and making monthly payments toward the purchase price of $282,500. A balloon payment of $258,126 is due on the land contract April 15, 2013. And…..WHOOPSIE…. the bankruptcy was not discharged and MckMama and her stud still owe more than $725,000 to creditors. There is little doubt that they will not qualify for bank financing, and therefore are all set to lose their $20,000 down payment along with the house.
This means the McKinneys would again be searching for a residence (and conveniently on the run from creditors…. if they can't find her, they can't serve her with court papers!).
Last weekend MckMama claimed a fire "ravaged" the house. She said that firefighters worked through the wee hours of the morning trying to save what they could.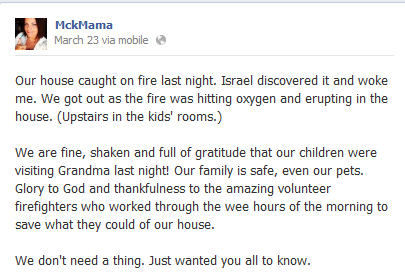 Does it come as any surprise that the People of the Internets wondered whether she was lying?
MckMama gave more alleged details: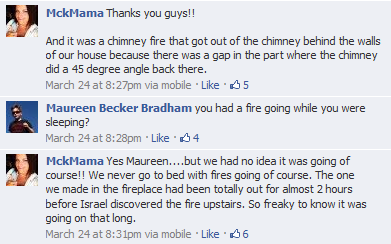 This is the picture she posted of the fire damage: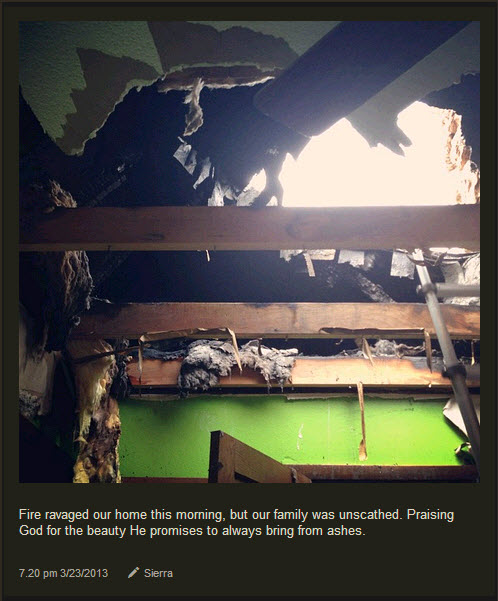 Thankfully, MckMama wasn't too shaken up to post a picture on Instagram, use a nice filter for effect, and mislead her readers about the damage from the fire.
"Ravaged our home," you say?
A considerate reader at MckMama Truths: MckMama Without Pity was kind enough to drive by the house and take pictures for us.
This is the "ravaged" house: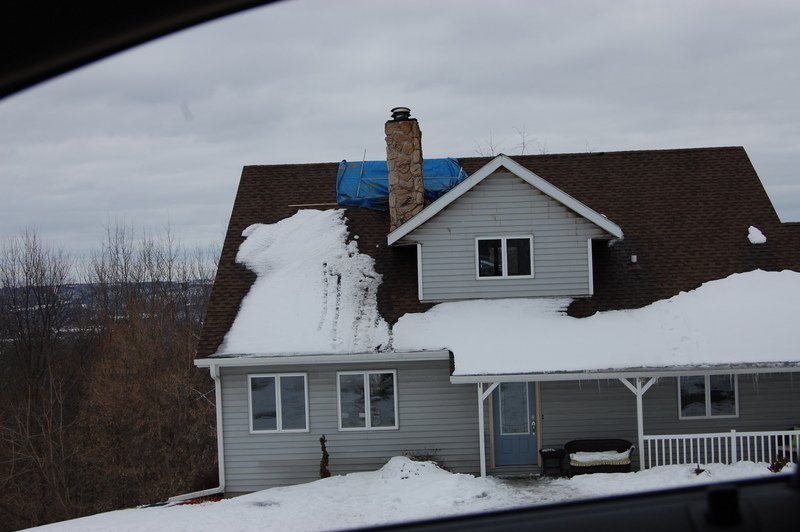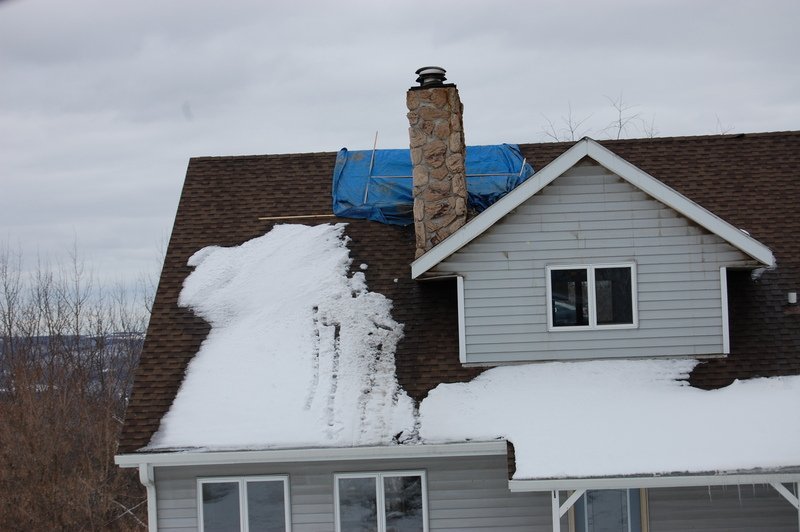 You can click on either of those pictures to see them full size, but you really don't need to. Your eyes don't deceive you. There are no broken windows. There is no structural damage. There is plenty of snow still on the roof, with only a few little trickles of water hitting them. What you see is a hole in the roof where a small chimney fire allegedly burned. And that is the extent of it.
Naturally, the sheeple were incredibly worried about the McKinneys and whether the house was still standing. Jennifer told them that the insurance company was deciding whether to declare the house a total loss: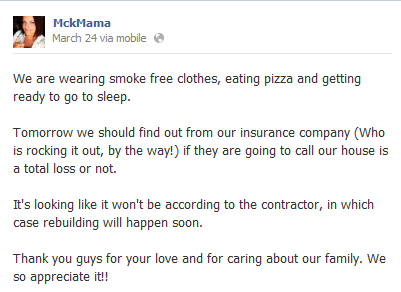 Who knew that a small fire in an attic and one hole in the roof might lead the insurance company to think the house could be declared a total loss! Well of course, the insurance company didn't think that at all. MckMama just said that to increase the drama (and probably the donations!).
UPDATE: Check out the alleged rebuilding that MckMama says will go on:

But you can bet that Jennifer and Israel McKinney – – scammers that they are – – will not let any tragedy or any possible payday  pass them by! Count on them getting all sorts of new furnishings and clothes courtesy of an insurance company: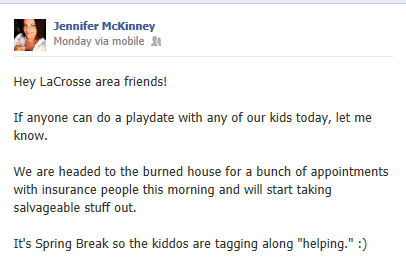 Yep…. "salvageable stuff" from a small fire in the attic. Pray tell what was NOT salvageable in the rest of the house?
Where does a fire like this get the McKinneys? Well it might explain to their followers why they are moving AGAIN, without having to fess up that once again they have failed to live up to their financial commitments. It might get them some decent digs on the insurance company's dime while they figure out where to go next. It might even lead them to demand their $20,000 down payment back from the sellers… after all, it's not their fault that they can't make good on the land contract (pay no attention to that failed bankruptcy attempt that virtually guaranteed they couldn't get bank financing to make the balloon payment!).
Why does this story matter? Because Jennifer and Israel McKinney are serial scammers. Check out how Israel screwed an employee out of over $50,000 (while the McKinney family was living it up and racking up other debts). Read more about how they lied to the bankruptcy court.
Take a look at another recent house fire, after which Jennifer also claimed the house "burned down":

Yes, this standing structure is indeed the house that "burned down" right before the McKinneys were supposed to move into it:
The house is obviously damaged, but a far cry from burned down. See how easy it is for Jennifer McKinney to embellish her stories for monetary gain?
After you educate yourselves about the lowlife McKinneys…. refuse to do business with them. If you are selling or renting a house, avoid them like the plague. If you're thinking about becoming a part of "Team MckMama," the venture in which Jennifer McKinney is peddling dangerous diet pills that don't really work, walk away. If you believe one word these charlatans say, STOP IT NOW.
Get educated about these liars and thieves.
This is not the first time that there has been a suspicious fire in the McKinneys' house. And don't forget about those suspicious automobile accidents. Read all about their bankruptcy filing, and the lies before and during the case. Remember, when people cheat the system, all of us pay. Unpaid debts and bogus insurance claims cause all consumers to pay more for their goods and services.
And as for the creditors? You better believe that they will be informed of Jennifer's whereabouts so they can garnish her earnings directly from Xyngular. Particularly now that she just got a $100,000 bonus that will be paid out over the next year: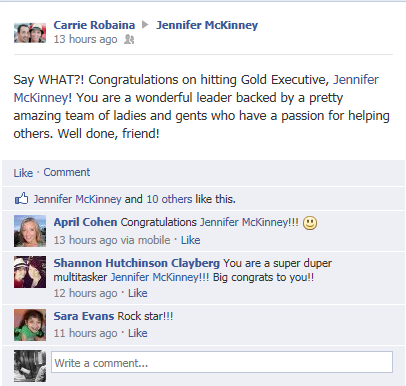 I've said it before… the creditors of Jennifer and Israel McKinney can get paid.